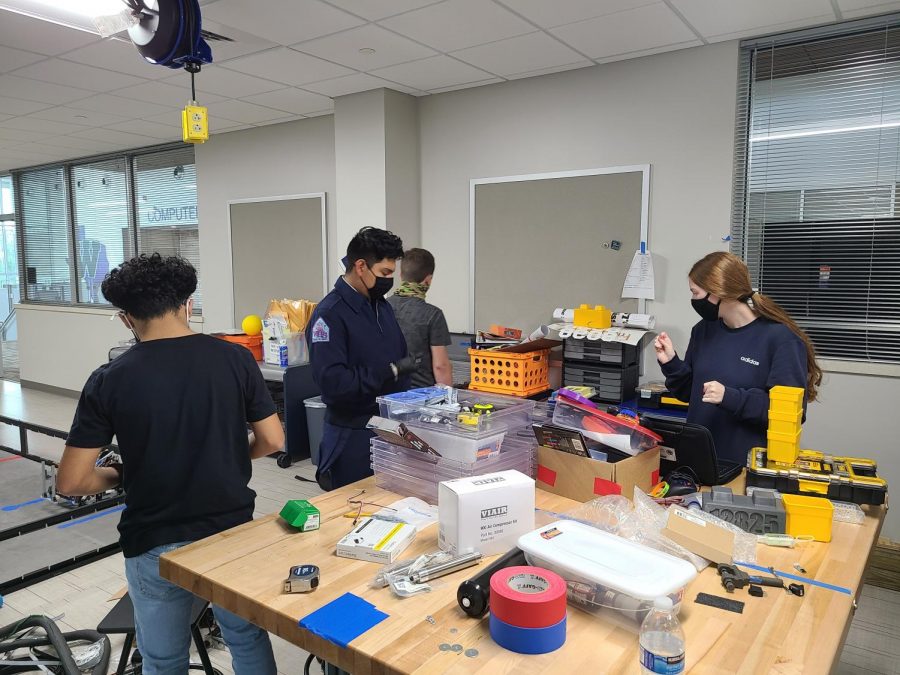 Nickie Ehlert
After a long day at school, students march over to the CTE Building to prepare for the upcoming season.
Robotics is a club that creates an environment for students to learn new skills and experience new opportunities that they wouldn't normally receive in the classroom. Due to the COVID rules and regulations, in person tournaments will not be held until January, but if online tournaments are necessary, they will be held before then.
A lot of things are uncertain now because of the coronavirus and a lot of school events have been cancelled, postponed or to be announced, including robotics. 
"We aren't sure if we're going to have  virtual or in person meets yet," sponsor Nickie Ehlert said. "If we do end up doing virtual meets, the kids can record themself running through the game and then they can pick their top five videos to enter, but we're hoping that we get to do in person meets instead." 
Even though members don't know what to expect for tournaments yet, they're still moving forward in the season and preparing in every way that they can. There are still a few open spots on the team and students are encouraged to join because this club can be a good place for people that like creating things or because it's a good introduction into the engineering field. 
"After we finish inventory then we are going to actually start building with CAD," junior Kendall Cobb said. "We already have the sketches of our designs. This year we have a very strict plan that we have to layout before we begin on the robot."  
Robotics is a team sport and each member has to work with one another to reach their goals before tournaments start being held. 
"I think as a group, communication is important," sophomore Phoenix Decker said. "We're working on our debates so that hopefully we can advance further this year and I know that with our team, we can definitely get there."