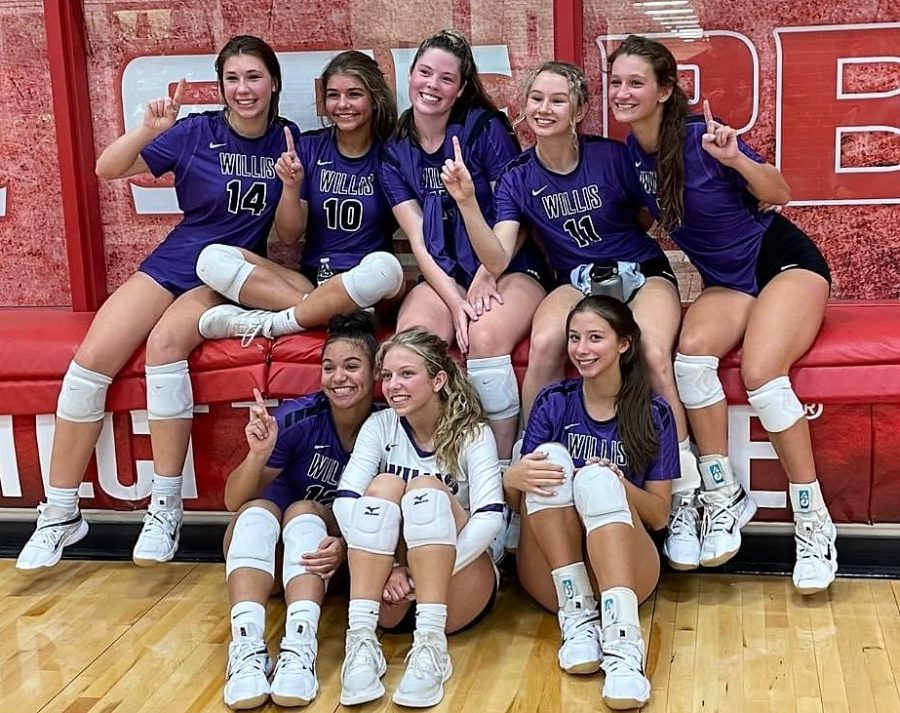 courtesy photo
Game on. The players are practicing, the coaches are scouting, the drill team and band is preparing for their half time shows , the cheerleaders are ready to support and cheer on the Wildkats in this year's fall sports. 
The Wildkats tennis team has already started their season off with matches and afternoon practices.  Last week dominated rivals Huntsville, and they are working hard to get ready for the fall season. 
"This season is way more normal than last season," senior Heather Jackson said. "Last year, we weren't able to start until September which made us miss out on a month's worth of matches. This year, we have plenty of matches to prepare us before going into district and hopefully the playoffs." 
The cross country team has been putting in the effort and the hustle to prepare themselves for their first meet coming up to begin their season. They are running in Caldwell over the weekend. 
"We haven't raced in any meets this year yet," junior Jolie Boyd said. "But my goals for this season are to compete and do well in the races." 
The Ladykats cheer squad not only focuses on their grades for this year, but they work hard and put all their time into becoming better athletes, teammates and champions. 
"No change in the routine, just learning new things like stunts," junior Emma Atkinson said. "All the girls coming to varsity are amazing, and we're all working hard and becoming closer as a team and working together a lot more." 
The football team has come together to work harder than ever and make it to the playoffs with their heads held high. 
"Our goal this season is to win," sophomore Hunter May said. "Practice consists of running and sweating, along with formulating our game plan for the season." 
The Sweethearts are already preparing for their upcoming fall season, full of jam-packed practices and competitions out of state. 
"During the fall, we are participating in football by doing stand routines and our halftime shows," senior Alyssa Williams said. "We are practicing practically everyday in order for our team to show our hard work and to be the beautiful dancers everyone knows us as. While doing this, we are also beginning to prepare for competitions happening in early spring, as we want to be ready to win competitions, especially our Disney competition." 
The Ladykat volleyball team has started their season with early morning practices and late night games. With hopes of making it to the playoffs these Ladykats are putting every minute they can into their season.   
"My goals and hopes for the season is for everybody on the team to grow as a teammate and a better volleyball player and to have a great season with Coach Storms and Coach Shelly," junior Sophia Runey said. "The team has put in lots of practice on and off the court, which we put into our volleyball tournaments we started the very first week of school. We are becoming the best we can by playing the best teams all over the Houston area for our preseason."