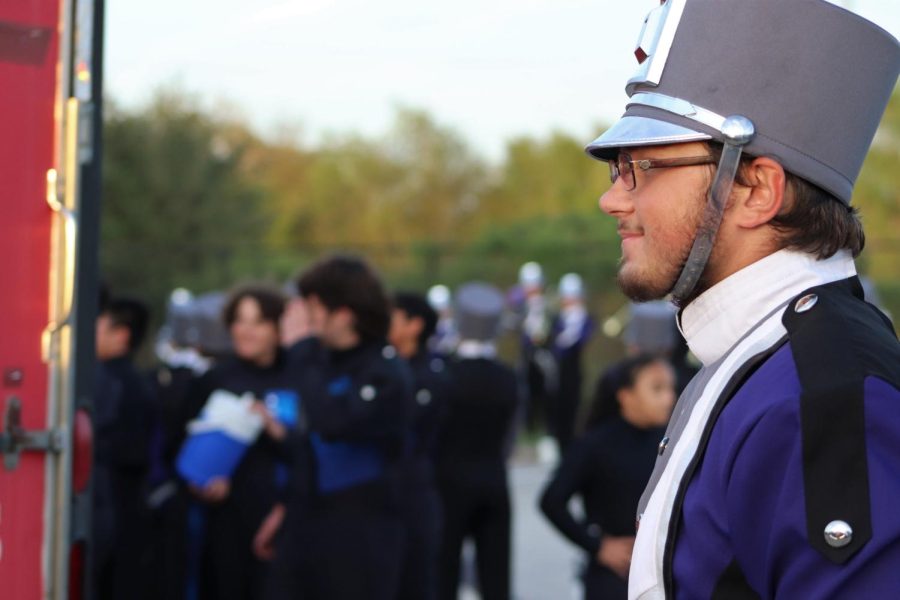 Timothy Gunn
The sun is high. The air is quiet. Anticipation fills the stadium. As the first notes ring out, the fans fix their gaze, and the band takes their first steps. Endless hours of practice have led to this moment. 
In a few short minutes, the contest is over.  They left it all on the field, and hope that their best is good enough. 
The band travelled to Woodforest Stadium in Conroe to compete in the conference 6A Region 9 marching band competition on Tuesday, October 19. 
"I felt nervous going into the competition," junior Sophia Cruz said. "We had been putting in a lot of effort, but we didn't know how it was going to play out."
After their performance, the band had to wait for several minutes before receiving their results and finding out if they advanced to Area competition.
"I was indifferent about the performance," senior Faith Miner said. "I feel like we could have done better, but the improvements we already made were definitely noticeable."
When the results came in, the band was ecstatic. The band received all ones, the best possible score in marching competition.
"I was in shock," Miner said.  "With everything going on, we still overcame it with hard work and intention."
With all competitions, many chances arise. There are chances to improve, chances to learn, and chances to prove one's excellence.
"My biggest take away is that although I am always focused on my part specifically,  the band is what truly matters," senior Zane Martin said. "Even if I mess up, there is a big chance that the judges won't even notice it."
Even with all they have done to improve and all that they have achieved, there is still room for improvement.
"We need to work on timing for visuals," Cruz said. "It was a little sloppy overall. We all could have been a little better."