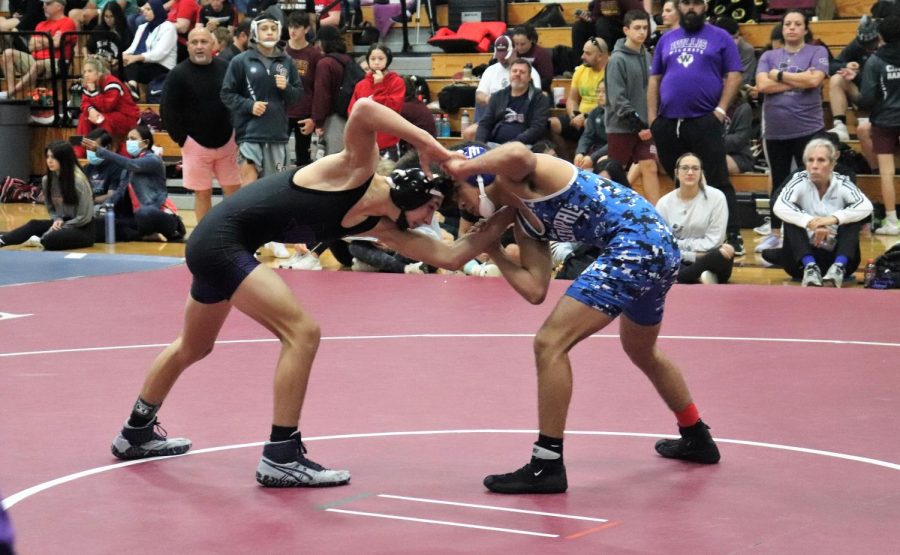 MariPat Wilson
One. Two. Three. It is a pin.
The wrestling team started their season only a couple of weeks ago, and the wins are piling up. They are almost half way through their season, and are wrestling plenty of tournaments, duals and quads. The most recent tournaments were at Katy Morton Ranch and New Waverly. In both of these tournaments, the team excelled.
Even though the season has been rough for senior Carlos Salazar due to an injury, he still finds the positive in every situation, and is looking forward to finishing off his last season. 
"My goal this season is to be a state champion," Salazar said. "I genuinely want our team to succeed and I want them to go past their limits. Our wrestlers should be able to push themselves further than anyone else, because of the physical and mental situations that we go through."
Compared to the 2020 season, the 2021 season is much longer. This is because COVID shortened the season last year, which is a disadvantage to the second year wrestlers who have yet to experience a longer and busier season.
"I'm pretty happy with our season being at its actual length," junior Yabi Paulino said. "Although our tournaments have been stressful, our team has been doing great. It is also good mat time. But it is a lot harder for the kids who have not experienced this level of competition."
As a new wrestler, freshman Lane Sutton was able to experience a high level of competition, and it opened his eyes on how he will do for the rest of the season. 
"I really enjoy practice," Sutton said. "I have learned in my past few meets that I have a lot to learn. Being on varsity is a big step and makes me have a lot higher of an expectation for the rest of my season. I have learned that it is important to learn and focus, but I'm looking forward to winning and practicing so that I can get better."
While being put through the physical test everyday, and an even worse mental state, the entire wrestling team still tries to put their teammates before themselves. 
"I think it is really important to make sure we're pushing each other to the best of our abilities," senior Janice Maldonado said. "We need to help each other everyday, and not just on the mats, but also in the classroom. We need to help each other be good people, students and athletes, and do it while spreading positivity."