LadyKats ready to make statement this season
December 16, 2019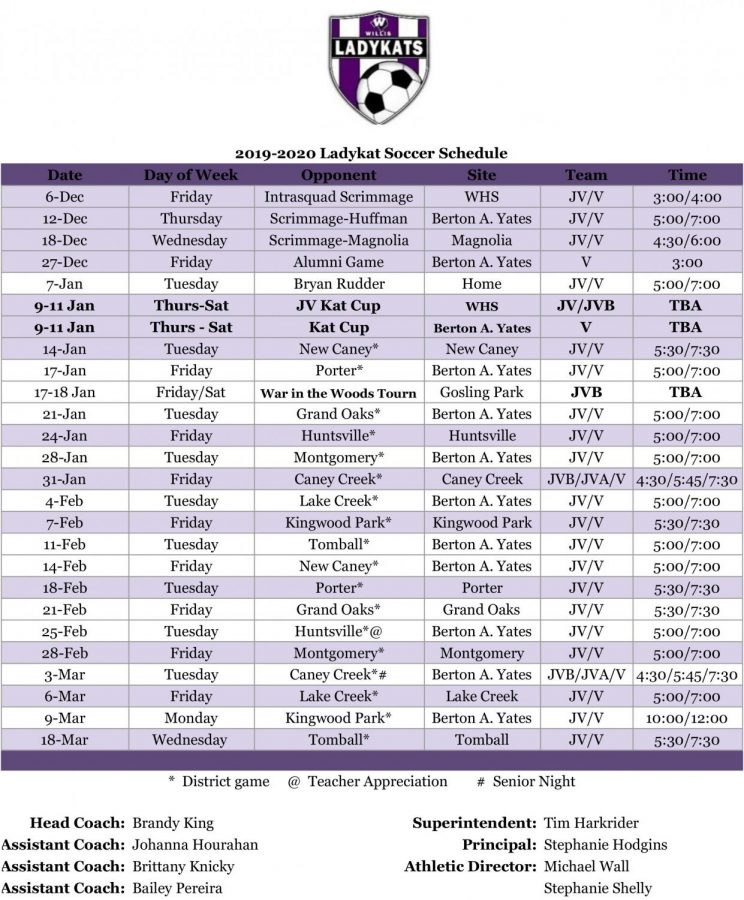 photo or infographic by courtesy photo
A pitch, ball and cleats are all these girls need. 
The varsity girls soccer team team begins their season with a game against Bryan Rudder on January 7th, but the team will not take the winter break off. The much-anticipated alumni game is December 27th at Yates at 3:00 p..m.
"We have the alumni game coming up that we play in traditionally," senior Emma Holiday said.  "I'm also super excited for this season because it's my last one, and I'm excited to see us blossom and grow into the best athletes we can be." 
Losing critical players from last year, many are interested in how the team will respond, but the Ladykats seem very confident in their ability. 
"My goals for this season are I just want to see us grow as a team and become something people aren't expecting from us," junior Nancy Raya said. 
With lots of new faces this year on the roster, they are super excited to lace up their cleats and face the challenges that may lay ahead.
"As a newbie to this, I hope to make new friendships and memories that I will carry on throughout my life," junior Joanna Aguilar said. "I look forward to games because they make me forget about everything else and it's a fun time with the girls."
Although there are some new faces the senior class has very strong leadership capabilities to accomplish the goals they have for the season.
"My goals this year are to play with a great group of girls and have fun with my senior year," senior Rachel Inman said. 
Senior or rookie, all of the players have the same goals in mind. 
"I want to grow as a program and enjoy this season, help those who are seniors and enjoy their season as well," junior Areseli Perez said.