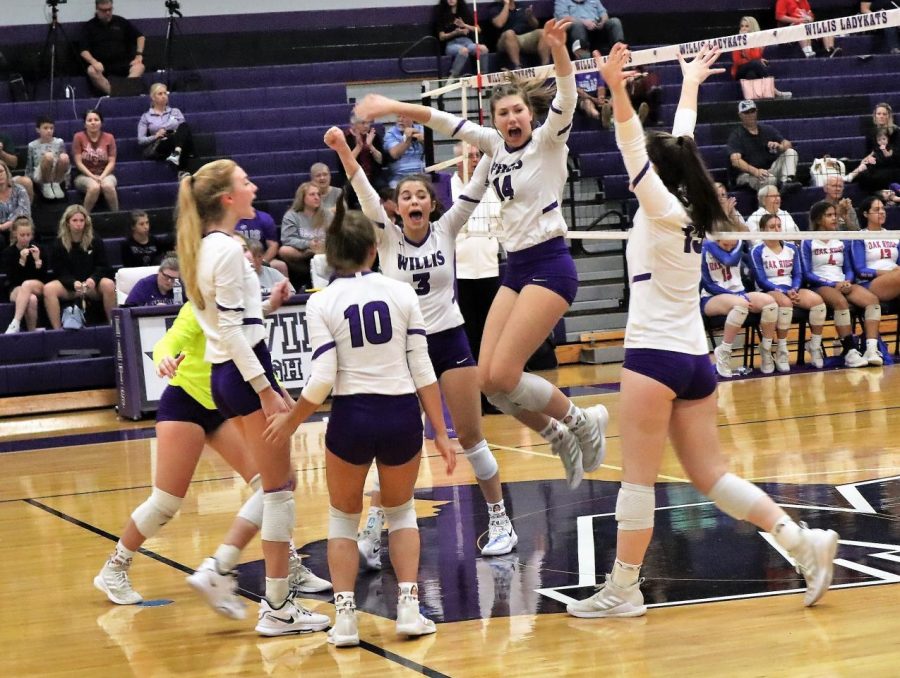 photo or infographic by Brenan Mansker
Ladykats lose tough battle against Lady War Eagles
October 1, 2021
On Tuesday, September 28th, the volleyball team hosted the Lady War Eagles from Oak Ridge. Despite losing a tough battle, the team left the court knowing they worked hard and played great.
"We played good, but we just came up short," freshman Carly Paugh said "We just need to prepare a bit better for our next game."
The volleyball team will play away on Friday October 1st against the Grand Oaks Grizzlies. It is another district game, and the team us planning on a tough battle. 
"We were really competitive," senior Piper Neumann said. "We have been working to improve and hopefully we can win on Friday."
The team is working to build team spirit, but the school spirit at the games in on point. The student section shows up for home games to yell for the Lady Kats.
"I was at the game and the girls played great, but they just came up short," junior Colin Utecht said "I'll be at the game on Friday to watch the girls win."
The volleyball team has a very supportive fan base. A big portion of the fanbase is the loud student section.
"We come to all the home games," junior player Braydon Hawthorne said "We are part of the baseball team and we support them, so the volleyball team will come support us."
With the big fan base and great student section. Volleyball games also come with dress up themes for the student section.
"I was one of the people who dressed up," senior Colton Land said "I love the themes we have. I feel it brings the student section better.
The team left their hearts on the court and knew they played hard. The game was filled with a lot fun times
"We had a lot of fun, but winning the game would've made it a lot better," junior Caroline Woodfill said. "We will work hard in practice to try and win our next game."