Dedication, hard work lead to Lone Star Degrees for senior FFA members
August 28, 2019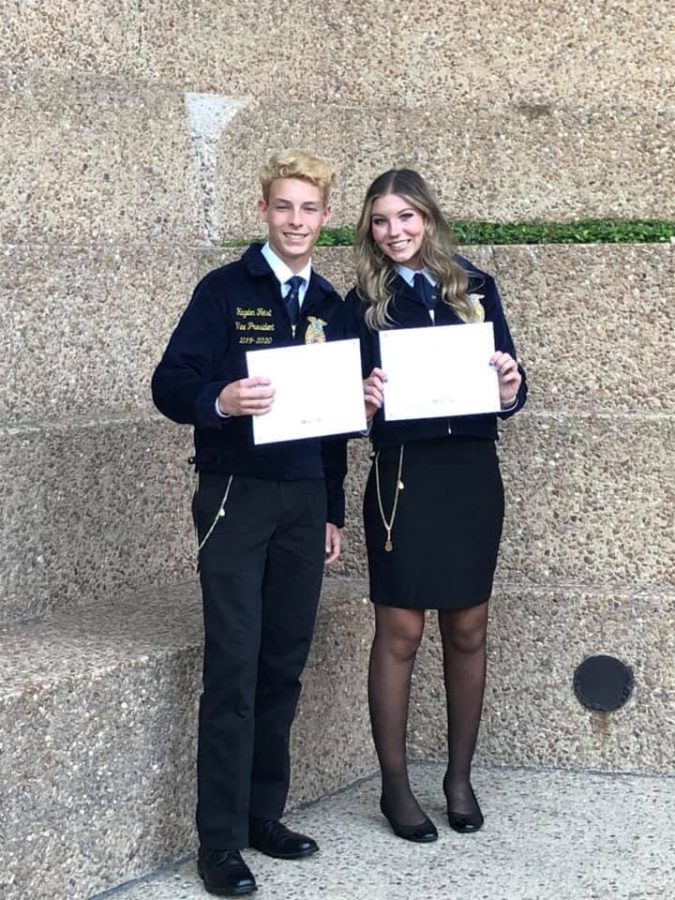 photo or infographic by photo courtesy of Willis High School FFA
Early morning feedings. Alarms accompanied by the belt of animals. Late nights at shows. Miles and miles of travel. Hours of exercising, washing, grooming and training livestock after livestock. Making lifelong memories with friends in family.
All in the normal schedules of FFA seniors Grace Hoegemeyer and Hayden Feist. Both achieved the Lone Star Degree, the highest award possible for high school FFA at the state convention.
For Hoegemeyer, this has been a long time coming. She knows what it means to work hard for what you want.
"In FFA I strive to be the best version of myself possible so it is always a good feeling to be rewarded for my hard work," Hoegemeyer said.   
Feist feels the same way about his accomplishments. This degree of award is not something to be taken lightly, and he knows it.
"In FFA, I was awarded the highest degree possible by the state level,"  senior Feist said "I was very honored to receive it."
Thousands of students across the country do FFA, and few are able to win this award. This achievement shows the hard work and dedication of the students.
However, the sky is in fact not the limit for Feist and Hoegemeyer. With one more year to put under their belts, both are expecting great things. He knows he has one more year to really show out in his livestock competitions
"I'm ready for a good show year and to do good in competition this season," Fiest said. 
As for Hoegemeyer, she is expecting a solid competition season and more.   
"I am looking forward to increasing the involvement in our chapter and finishing out my show career strong," she said. 
For both, the years of work and dedication to FFA has been an extremely rewarding experience
"Since freshman year, I have loved the experience," Feist said. 'I will continue to carry on these memories."