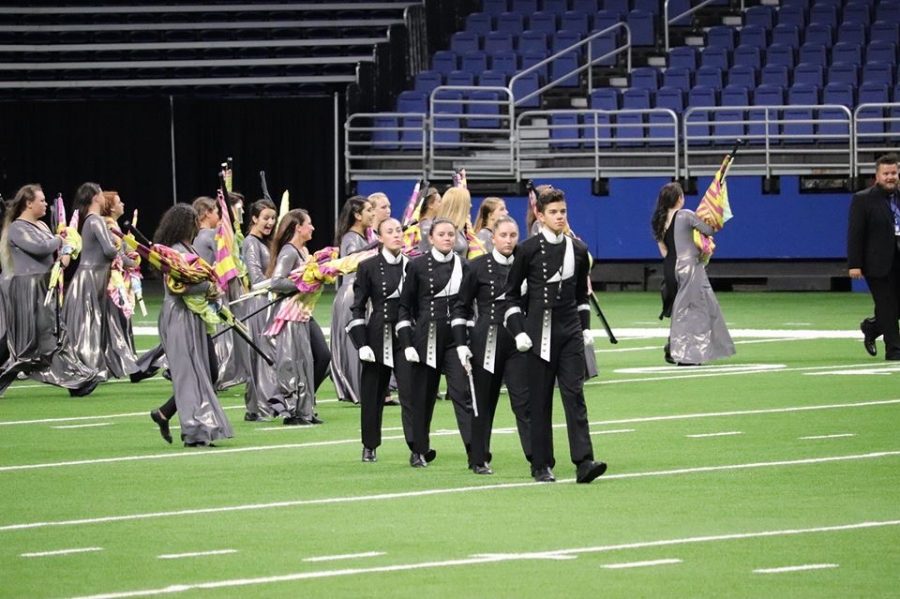 photo or infographic by courtesy photo
Expanding spaces, lasting memories
Marching band has come to an end and the band and guard will be going their separate ways. Band will start concert season and guard will still be in their competitive season. It is time to say goodbye to Expanding Spaces.
Before school even started, the band and guard were already practicing their show. Learning the drill, music and choreography in 100 plus degree weather was just part of the struggle to make the show happen. Working hard to clean their show to perform in public at games and competitions was weekly routine for the students and directors. 
The color guard had a routine: after having warm up, the guard got a quick drink of water and put their equipment down to circle up. They made a big circle and connected pinkies. The director always would give a few words and together they would take a deep breath in and then breathe out and then they would yell all the negativity out. They would gather their equipment, make two lines and go perform.
At competitions, the band and guard would all gather by the gate about to perform. The announcer would talk about the band that just performed, while the drum majors would file in front band in a line. The band would all get their instruments, and they would all stand in second position. After yelling out the chant, the group would hurry out the  gates and prepare for competition. 
It is hard to say goodbye to something that took up so much time. For the first few days after school, band members and color guard members felt like it should be time for practice or it was time to run through it one more time. To the band and color guard and directors who ended their season 26th in the state, the memories were amazing. Expanding Spaces was exactly what it was supposed to be.
Donate to The Voice of the Wildkats