Journalists bring home gold from Renfest School Days
Dec 3, 2019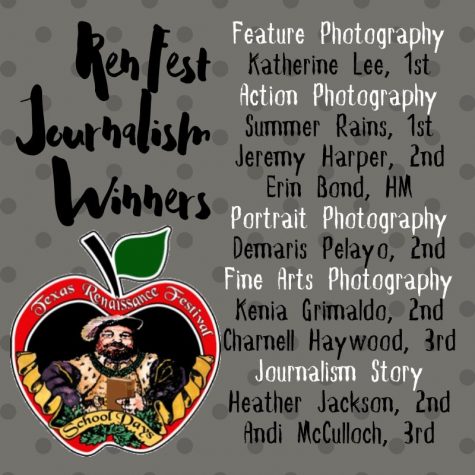 Some students are there for the turkey legs. Others can't wait to ride the elephants. But the media students at Texas's largest Renaissance festival are there for much more.
They want the perfect shot of the joust or the perfect quote from Adam Whip or Arsene.  They want that medal featuring Henry III and the accolades of knowing they did great against tough competition.
Media students from all over flocked to the Renaissance Festival for the School Days event during the first week of November. Setting off on their journey to find the most creative pictures and in-depth interviews, the newspaper and yearbook staff had a busy day ahead of them. 
If they wanted to place in the photography and journalism competitions, the student journalists needed to work hard to get all of the material they needed. 
"Rather than goofing off and not paying attention to why we were there, I worked hard to get all of the quotes and information," sophomore Heather Jackson (2nd place journalism story)  said. "It made me feel really good about my writing skills to place in this competition, and it definitely made me feel more confident about my writing."
Although it was important to get everything they needed to be successful, students were still able to have fun while participating in the fun competition. 
"My photo was of this dude jousting, and he was laughing and pumping his fist in the air," senior Jeremy Harper (2nd place action photo) said. "It was easy to get such a good picture because of all of the shows they had going on. I liked being able to do things that were interesting while still being a serious competitor."
Despite the confidence from the winners, their success came as a welcomed surprise during Thanksgiving break. 
"It was really exciting because I got the text from Meachen as my friend and I were leaving Universal Studios," sophomore Summer Rains (1st place action photo) said. "I just started jumping around when I saw that I had won first place. Everybody probably thought I was crazy, but I couldn't help but celebrate." 
Although this is not the first time that the school has competed in the Renaissance Festival journalism competitions, it is the first time that many students have entered their own work in a contest of this sort.
"It was my first photography competition, and the picture I took was honestly sort of a mistake," sophomore Katherine Lee (1st place feature photo) said. "I'm excited that it turned out so well and I know I'll remember this for years to come."
Overall, every single media student was able to proudly submit stories and photos they worked hard on, whether they placed or not. 
"Ren Fest is always a great day of competition," adviser Emily Meachen said. "I am so proud of all of my students, and the work they submitted. This is by far the best we have done as a school, and the competition was tough."
Adam Crack wows crowd with Fire Whip show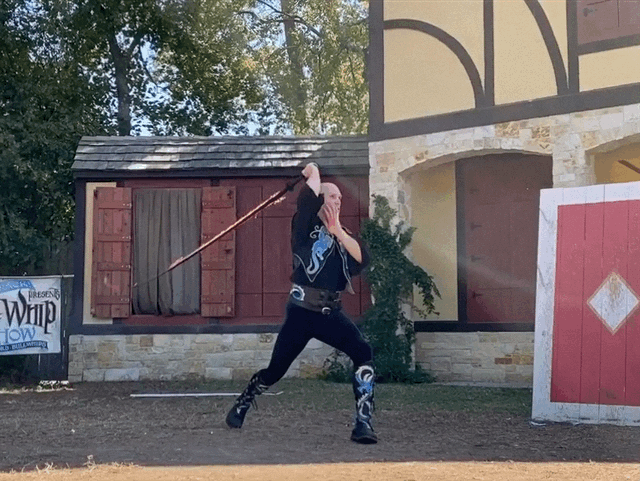 photo or infographic by Summer Rains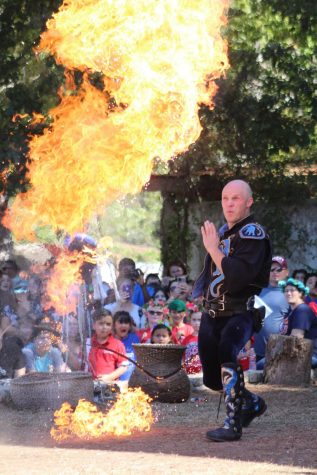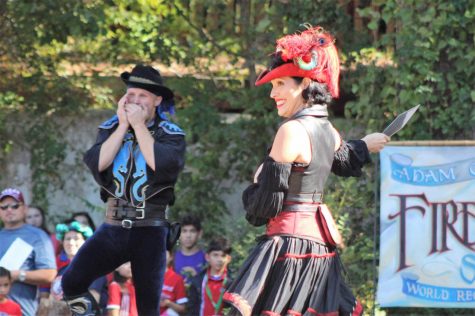 With the crack of his whip, this Renaissance festival performer entrances his audience with something they don't see on an everyday basis. The fire illuminates a feeling of wonder that many members of the audience have long forgotten. Whip cracking on its own is a sight to see, but what this man brings to the table is something fresh and extravagant.
Adam Crack is a world record holding whip cracker who has dedicated much time and energy to his show. A skill like this does not come at the drop of a hat.
"I started when I was a little kid, when I was eight years old," Crack said. "To do the show it took me about an hour a day of training for five years."
Professions can be found and pursued in all different ways. Not all of them come in the most traditional way possible.
"I went into this profession because my credit score wasn't very good," he said.
Many students attended this entrancing show, and they were able to fully experience this unique talent.
"As soon as he twisted the fire whip, I could feel the heat of the whip across my face," sophomore Avari Ford said.
Many vendors found at the Renaissance festival such as Adam Crack have been participating in this event annually for many years for all those who come to experience this time and to see their perspectives on various aspects of medieval art.
"I started participating in 2006, so that would make this thirteen years," Crack said.
Even with the show that seems to show the crowd all about whip cracking, not everything can be performed on stage. There are some truly captivating events that the audience is not able to experience.
"My greatest accomplishment I would say is learning one of the most difficult Australian Whip Cracking tricks called the staggered four corners," Crack said. "It's too difficult to perform in a show."
Editor's note: The writer entered this review and photo as part of the Texas Ren Fest School Day's writing competition in the Entertainment Review category.
Leave a Comment