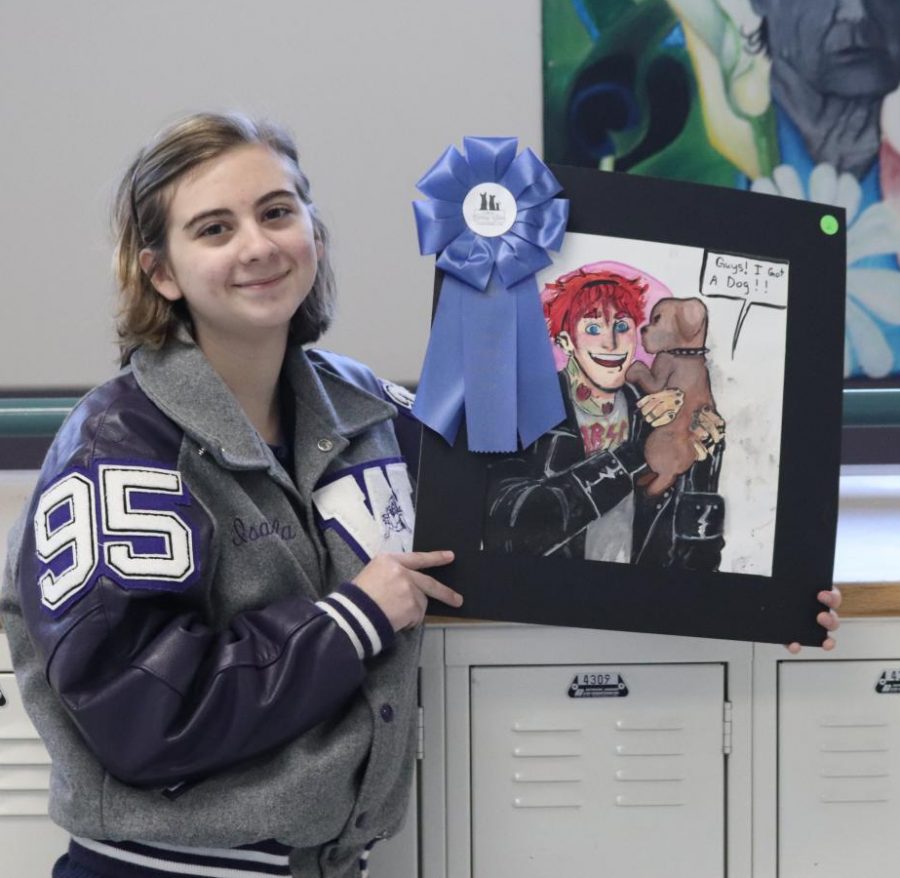 photo or infographic by Piper Neumann
Dog-themed art earns sophomore cash
The stroke of a brush. The scratch of a pencil. The laser sharp focus. Countless hours of hard work in order to finish a single piece. A hint of natural talent. All and more is required in order to be an award-winning artist. 
For sophomore Isabella Rios, a student in Painting II, she has that title under her belt, placing first in her category in the Conroe Kennel Club Art Show. This was the first year art students entered the local contest.
"My senior friends told me about the competition," Rios said. "I didn't submit it to win. I was just screwing around but somehow won." 
Other students in art also entered the contest in three categories: Dog Portrait, Dog in Action and Dog with a Companion.
"We submitted nine pieces," Amber Brumlow, art teacher, said. "The winner in each category received $100. The art show took place during the Conroe Kennel Club's Dog show at the Montgomery County Fair Grounds."
The Conroe Kennel Club art show focuses on animals and their relationships with humans. Split into a multitude of categories, each has a different focus with different artistic characteristics. 
"I wanted a grungy dude to hold a cute puppy," Rios said.
An artist often has an inspiration for a work. From nature to life, abstract to simple, art is renowned for the ability to freely express emotion on the canvas. Rios's category was Dog with a companion.
"I chose companion watercolor and entered it for a school project," Rios said. "Obviously the results were satisfactory."
The thrill of victory is a great feeling that often begs to be shared. Rios turned to her mother, asking what she should do with the spoils of her accomplishment. The award came with a $100 check. 
"When we found out I won, my mom said we should donate it." Rios said.
Donate to The Voice of the Wildkats