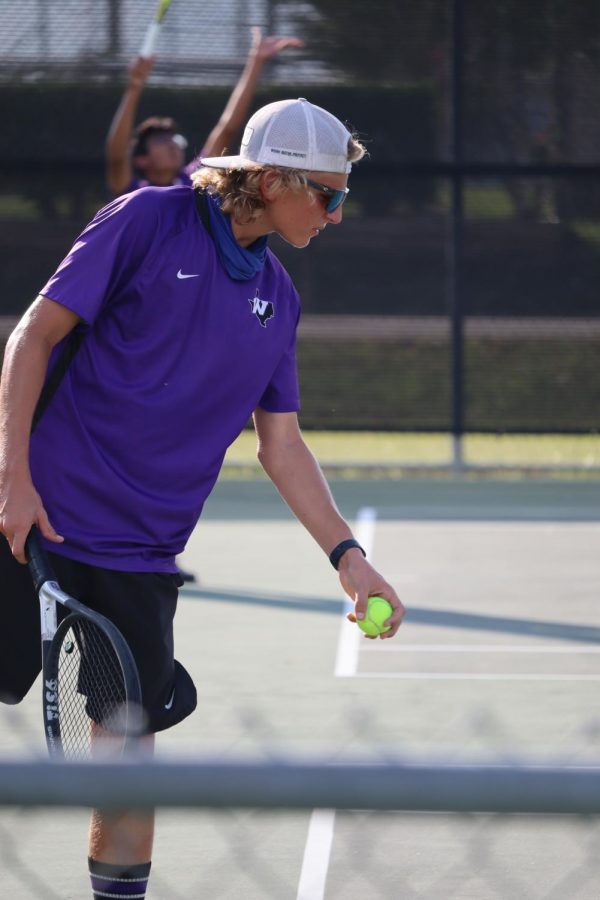 photo or infographic by Emily Meachen
Tennis team sets goals for 6A season
Sep 15, 2020
Wildkat tennis is back, starting off the season with can do attitudes. They played The Woodlands last Tuesday. They play College Park tonight home and play on Friday at home against Huntsville.
The first game against the Woodlands was a tough loss, but now the players know how to improve their skills. 
"I need to improve on my serve, I would like it to have more spin on it rather than being so flat," junior Ryan Glasgow said.
Leadership is a quality that is needed when playing a more experienced school.
"Constantly working hard sets a good example on the court," junior Colton Land said. 
The Wildkats are preparing for tougher teams in 6A this year.
"The important things needed to be successful against better teams are a better mindset, confidence, good teamwork and support from your teammates," senior Tyler Knopp said.
The goal is always to make enough wins to get to the playoffs.
"I'm personally looking forward to the fun we have fighting for district playoffs," junior Jenna Dempsey said.
New people are still learning what high school tennis will be like.
"Improving on multiple skills and getting more experience will help me this season," freshman Colin Linton said.
The tennis athletes have great character qualities that are going to help them be successful this season.
"As far as how hard the kids work, and how dedicated they are, it is going great," coach Lisa Parrot said. "They keep up the team spirit and keep everyone working hard."
It is important to be encouraging to all the players on the team and play all of them during practices.
"We need to be inclusive and have everybody involved no matter their age or skill level," Knopp said. "The only way people are going to get better is to play different people that they haven't played."
The Wildkats are not letting a defeat get in the way of their bright future. They will continue to work hard in practices to get better and eventually win all their matches.
"Although the Woodlands High School beat us, we were able to come together as a team and fight for every match," Dempsey said.
Team ends fall tennis, looks forward to spring season
The rallies have come to an end. The Wildkats put their rackets down as their season closes. Wildkat tennis had their last game last Friday. 
 Lots of players worked on specific skills to better themselves.   
"I learned different foot work and how it benefit me in the future," junior Nicholas Pate said.
The freshman experience has been great so far.
"My freshman year in tennis has been a lot of fun and hard work," freshman Colin Linton said. "For next year I am going to be practicing on my own to get better so I can go against better people."
Seniors have been practicing their leadership skills throughout the season to set an example.
"I have improved as a leader by making sure to push and motivate the team," senior Megan Leblanc said.
There are high hopes for the spring season.
"The team could have done better, but we put up a fight and will come back stronger next season," Pate said. 
For seniors, this is their last fall season.
"The best part of senior season was going on trips and bonding with the team," Leblanc said.
Not only are skills needed to succeeded in the sport, it is also the mentality.
"But one thing I took away from this past season was that our team has the potential to compete with our distract, we just need to get in the mentality for it," junior Ryan Glasgow said.
Leave a Comment