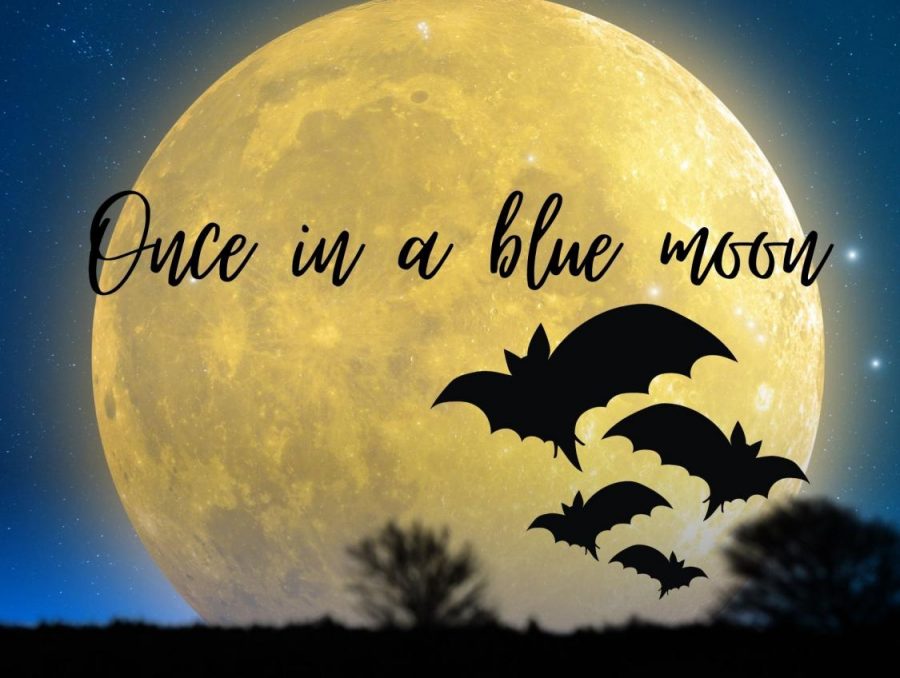 photo or infographic by Jesus Santana
Blue moon offers rare treat this Halloween
Ghost and ghouls. Vampires and werewolves.
They are what people think about when we imagine a full moon. Tonight, there will be a full moon followed by a blue moon on Saturday, October 31st, on the day of Halloween which will be visible to all parts of the world.
A full moon may be common, but a "blue moon" only happens every two to three years. And a blue moon on Halloween that can be seen by all parts of the world last happened 74 years ago, on the Halloween of 1944. 
Imagine watching scary movies and going out to haunted houses and other Halloween events with a full moon on Halloween night. The joy of going out to have fun with friends and being able to scare each other with the full moon on Halloween or even for the people concerned for their safety who could easily stay home and celebrate Halloween in their own way. Either way, finding a way to enjoy this Halloween should be most fun with the rare appearance of this blue moon.
A blue moon is defined as the second full moon that comes in the same month as another full moon. A blue moon actually happens every two decades on the day of Halloween, but it can only be seen by certain regions of the world. This Halloween, however, is the first since the 1940s that will have a blue moon that is visible to all parts of the world. 
This is all the more reason to have fun during Halloween, to get away from all the crazy that happened this year. Plus, Halloween is on a Saturday. For the last few years Halloween has been on a weekday, and only every 5 years does it fall on a weekend. Yes, there are safety concerns for the current pandemic, but people should not let that hold them back. Halloween parties might not happen because of social distancing but haunted houses will only allow small groups of people to reinforce social distancing. And with masks already a big part of Halloween costumes, custom masks that are meant for safety will not be hard to fit in with every kind of costume.
A Halloween that lines up with the weekend and a blue moon that can be seen all over the world, along with a time era where everyone can have fun and enjoy themselves, sounds like the best Halloween in decades. It only takes a few friends or a few movies to enjoy the Halloween of a lifetime. The moon may not be blue exactly, but it's still a really cool sight if it is given a chance. Out of all the crazy things that have happened this year, this has to be one of the positive ones.
Donate to The Voice of the Wildkats