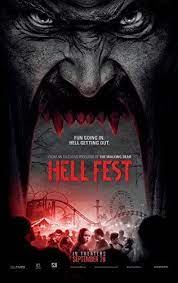 photo or infographic by courtesy of Lionsgate
Hell Fest 2018 (R)
"That same guy has been following us the entire night!" Natalie said to the security guard. 
"Came here to be scared, right? I can't arrest people for doin' their job. Welcome to Hell Fest." he said. 
From the producers of "The Texas Chainsaw Massacre 3D" and "Leatherface" the movie "Hell Fest" was filled with realistic terror and absolute chaos with plot twists at every turn. Feeling a ghostly presence while walking through a horror fest ending the night with terror and blood is what a horror fest is for. Until that horror ends up being scopaesthesia that ends the night with a murder and chaos. 
On the night of Halloween three young women known as Natalie (Amy Forsyth), Brooke (Reign Edwards), and Taylor (Bex Taylor-Klaus) are invited to Hell Fest by their boyfriends Gavin (Roby Attal), Quinn (Christian James), and Asher (Matt Mercurio) for a night of fun and scares filled with labyrinths, monsters, and haunted houses. However, this night of horrorous fun turns into a living nightmare as each member of the group is being stalked by a serial killer out for murder. The group goes through different mazes and haunted houses with the same Other- a masked horror monster of Hell Fest- following the group throughout them all. Each member begins to go missing one by one as the serial killer takes a prize after each kill. 
The director (Gregory Plotkin) adapted terror and suspense almost perfectly into this film. This movie was filled with plot twists and unsuspecting scenes filled with horror and screaming at the characters on the screen to run or look behind them. The only thing I wish this movie included was the suspenseful horror themed music to make the audience's heart beat race and mind wonder what corner the killer is coming from. Horror movies are a go to for watching on Halloween, and this movie is definitely a must have on that horror filled list. 
Donate to The Voice of the Wildkats