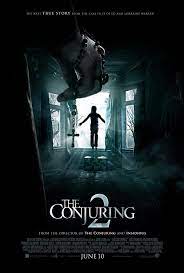 photo or infographic by courtesy of Warner Bros.
The Conjuring 2 (R)
Judy Warren stands paralyzed in fear, she holds up one finger and points down the hall. She asks her mom, "who is that," and standing down the hall is a dark figure, the nun from the painting, staring back. 
The conjuring universe is one of the most well known horror universes to date. In The Conjuring 2, it lives up to its predecessor. It's an old-fashioned horror movie approach that is absolutely encaptivating. This formula tells the story in a unique and satisfying way that compels any viewer to be on the edge of their seat. 
In 1977, paranormal investigators Ed (Patrick Wilson) and Lorraine Warren (Vera Farmiga) come out of a relaxing vacation to Enfield, England. In England they meet the Hodgson family, a family of six who tells the couple that something evil is in her home. Ed and Lorraine only believe their story when the youngest Hodgson daughter starts to show signs of possession. As the Warrens battle it out with one of hell's scariest haunters, they become the next targets of the malicious spirit.
The original story is based off of a supposedly true story of a family who had these "experiences." It's scary to think of this horrific event actually being plausible and it gets me afraid of the possibilities. The music is what really makes this movie horrifying. Having the welcoming and pure songs of the church playing as the theme of demon lurking is horrifying. I would absolutely recommend this to anyone as it is a universe well worth exploring. James Wan is a master at these aspects and I absolutely recommend this movie. 
Donate to The Voice of the Wildkats