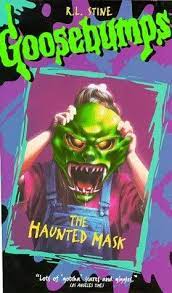 photo or infographic by 20th Century Fox Entertainment
Goosebumps: The Haunted Mask 1995 – (not rated)
The 1995 film "The Haunted Mask" directed by Timothy Bond is an American horror fiction film that is based off of the book series of "Goosebumps" by R.L Stine. The film is recorded in two parts and can be found in a series of other "Goosebumps" tales. The movie is about a young girl who learns the true value of friends and family.
The movie starts out with an eleven-year-old girl (Carly Beth Caldwell) who is scared of almost everything in the world. This causes her to be a target to two bullies during the time Halloween takes place. Ultimately, they scare her, leaving her petrified. However, Carly is tired of being scared so easily and decides to make it her mission this Halloween to scare her bullies. When it came time for her to decide what costume she wanted to wear, her mom made her a duck outfit. Carly did not believe this was scary enough. She ends up walking to a small shop on the corner of a street where she finds scary masks. She finally found the mask she wants to wear for Halloween, but the owner refuses to sell it to her due to some haunted curse. However, Carly doesn't listen and takes the mask believing it will scare anyone on Halloween. She wears the mask during trick or treating, but something strange happens and the mask possesses her. Carly Beth is unable to take the mask off and she eventually is consumed by the darkness. Her friends realize that something is wrong and that Carly Beth is no longer in the costume, but it is the monster that took over. However, after Carly Beth's friends come to the rescue, she is able to be found again and realizes that revenge isn't the answer, but to remember the love her friends and family show her. 
This movie is a perfect example of a balanced horror movie for children while still teaching them life lessons. This movie is great for family and friends to watch to get into the spirit of Halloween.
Donate to The Voice of the Wildkats