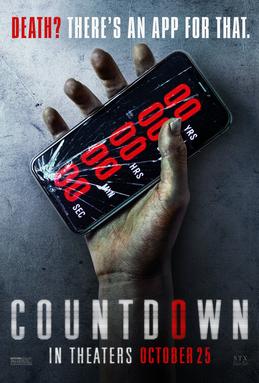 photo or infographic by courtesy of STX Entertainment
Countdown 2019 (PG-13)
"The countdown app? It's really just a random number with a clock. It's not that scary, but it seems like it worked on you two clowns." 
Would you want to know the exact moment when you're gonna die? To know whether you have 80 years to live a full, happy life, or if your time was limited to a matter of days or even hours. 
Starring Elizabeth Lail and Jordan Calloway, these two are known as Quinn Harris and Matt Monroe. They download an app that tells everyone when they're gonna die, and if they do anything to void the contract and try to avoid their death, a demonic entity from hell comes after their souls as they torment them till their last minute and the timer is up. Elizabeth and Jordan try to figure out a way to escape this demon and prove that the app is wrong about their lifetime, and they go on a journey through terror, priests, and loss to destroy the app for good. 
This movie was produced brilliantly by Sean Anders, John Rickard, John Morris, and Zach Schiller to really get the audience to gravitate towards characters and get hooked into the story line. This was definitely a suspenseful horror movie, not full of gore and blood, but still filled with jump scares and suspenseful tension. Adding this to your horror movie watchlist is a must, a great movie directed by Justin Dec. 
Donate to The Voice of the Wildkats