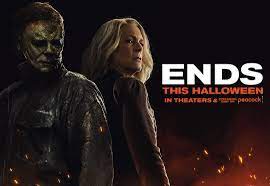 photo or infographic by courtesy of Universal Pictures
Halloween Ends ends franchise
Halloween Ends 2022 (R)
"Evil doesn't die, it just changes shape." Laurie says now that she understands the pure evil that is Michael Myers.
Halloween Ends, as the name would suggest, is the supposed final chapter in the giant Halloween franchise. A huge deal for any horror fan or anyone that saw the original Halloween in 1978 as a kid. Michael Myers is an iconic character that has fascinated and scared many generations of moviegoers for over forty years now. This film is the highly anticipated final showdown between Michael Myers and his rival and original obsession, Laurie Strode (Jamie Lee Curtis). Directed by David Gordon Green with a budget of $20-30 million, it may be the biggest horror movie of the year, drawing in all different ages and generations of horror fans.
Taking place four years after the events of Halloween Kills, this film follows Laurie Strode and her granddaughter Allyson Nelson (Andi Matichak) as they attempt to recover from the traumatizing events of the previous two movies. A new character with a troubled past, Corey Cunningham (Rohan Campbell) is introduced into the series, reeling from a previous incident that still follows him. The town of Haddonfield begins to ease back into a sense of security until the murders start up again, but something is different this time. The two horror legends, Laurie and Michael meet again, after an over forty year long rivalry, this is the end, the final fight.
This film, having been highly anticipated and hyped up, is slightly disappointing. As a horror fan, the film itself does not deliver as an ending for one of the biggest horror franchises ever. The writing is somewhat sloppy and does not feel like a Halloween movie. It has the blood, gore and scares that you would expect, but it's missing a few major pieces. I can't help but enjoy it a bit for what it is though. It's commendable that they took the risks the way they did, even if it was not loved by everyone. Corey as a character is very compelling and played to perfection by Rohan Campbell. The action sequences are very well choreographed and shot. It was also nice to see some familiar faces such as Lindsey Wallace (Kyle Richards) and Deputy Hawkins (Will Patton). Overall, the movie did not reach many viewers' expectations, but it was still a decently fun watch. Even with its shortcomings, it's recommended you see it while in theaters so you too can experience the end of Halloween.
Donate to The Voice of the Wildkats