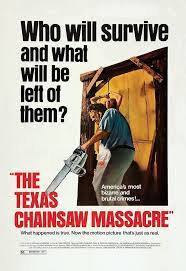 photo or infographic by courtesty of Vortex Productions
The Texas Chainsaw Massacre 1974 (R)
"He's wearing her face!"
The 1974 film The Texas Chainsaw Massacre is directed by Tobe Hooper originally in the 1974 film and the 2003 Marcus Nispel remake. They only lightly based on the real-life murderer Ed Gein, who is suspected to have taken several victims between 1954 to 1957. Throughout the years there have been ten remakes since the original film in 1974.
The movie starts out with a group of five hippies on a road trip through the backwaters of 1970's rural Texas fall prey to a murderous cannibalistic family making up of a leather-masked chainsaw-wielding maniac, his knife-wielding grave robber brother, and their cannibal chief father and decaying grandfather.
The film Texas Chainsaw Massacre is a perfect way to start the spooky season out with. The movie is a mix between thriller and spooky, with the leather-masked chainsaw-wielding-maniac chasing his victims. An amazing film and an absolute horror movie classic from 1974. 
Donate to The Voice of the Wildkats