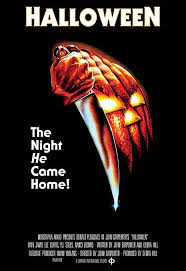 photo or infographic by courtesy of Compass International
Halloween 1978 (R)
The horrifying realization sets in, "It was the boogie man." Laurie said to Dr. Loomis. 
"As a matter of fact, it was." He coldly responded. 
"Halloween" is an all time classic horror film, loved by generations of horror fans. Its impact on the genre and pop culture can not be understated. Sometimes known as one of the first movies in the slasher horror sub genre, "Halloween", directed by John Carpenter is nothing less than iconic. This film spawned a franchise of twelve movies and inspired other horror flicks such as "Friday the 13th" (1980) and "Scream" (1996). "Halloween" is a movie that will likely be loved and praised for years to come.
"Halloween" follows a student, Laurie Strode (Jamie Lee Curtis) and her friends are stalked by a silent man in a mask on Halloween. Soon they are being killed one by one, until it is up to Laurie to survive the night. The killer who terrorizes the small town of Haddonfield, Illinois is Michael Myers, arguably the most well known horror villain out there. With him being the villain in eleven of the twelve films. His doctor, Sam Loomis (Donald Pleasance) is also on the hunt for Michael after he escapes the mental institution that cared for him. Michael descends upon Lampkin Lane, the neighborhood that contains his childhood home. As the movie poster suggests, it was "The Night He Came Home!"
"Halloween" is a creepy, thoughtful, and well directed film. The characters are very well acted and realistic like Sam Loomis (Donald Pleasance) and Sheriff Bracket (Charles Cyphers). Michael Myers is a certified horror icon, a silent, stalking shape in a white mask. "Halloween" paved the way for American slasher movies and horror in general. As a result of this, the plot is straight forward but it does simplicity to perfection. This simplicity is very welcoming to both horror fans and casual moviegoers. It is highly recommended to give this movie a try for the Halloween season, it is Halloween after all, everyone is entitled to one good scare.

Donate to The Voice of the Wildkats