Aquakats dive back into the season
Grabbing their swim suits and goggles, taking a deep breath before their heads go into the water. Three, two, one go! 
The Aquakats  start their season today, October 15th against Oak Ridge at the CISD Natatorium. 
"Swim has been practicing five days a week, twice a day to prepare for our first meet on Thursday," junior Colton Marburger said.
The athletes do more than swim to get in shape for the season.
"To prepare for the season the swim team has hit the weight room and the track a lot to build up endurance and strength for the water," junior Zach Clark said.
Being on the swim team has shaped the way people are.
"Swim has helped me develop social skills that I did not have and has made me a less selfish person," senior Oliver Bowling said.
There are high hopes for the season.
"I think the season will go well," junior Paige Green said. "We have been working hard, and I hope we will be able to improve throughout the season."
COVID-19 has put some restrictions on the meets.
"COVID-19 has limited swim meets to only three teams and has limited the audience, which is saddening, but a reality of our situation," Marburger said.
As always, leadership is important to be successful in a sport.
"Leadership is key in swim, especially before a race," Clark said. "It helps build adrenaline and boost one another up."
With about 20 freshmen on the team, it is necessary for upperclassmen to be uplifting.
"It's key to be encouraging to those who are new so that we can develop a positive experience and improve overall practices," Bowling said.
The swim team is a close knit group, and they are ready to work together to attain their goals this season.
"My favorite part about swim is how everyone can come together and push one another; we are like family," Clark said. "We have some top teams in the state in our district, but I think the Aquakats can rise up."
About the Writer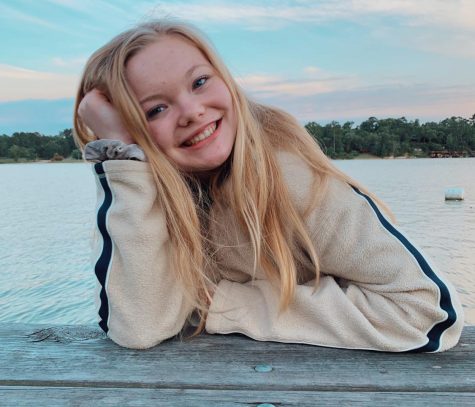 Piper Neumann, VOW sports editor
Piper is a junior here at WHS and is the sports editor for the newspaper. She loves to play volleyball and is on the varsity team. She hopes to eventually...