One Act Play cast tackles difficult show
Drama department hosts public performance of 'A Streetcar Named Desire' before UIL competition
"Seven minutes!"
"Thank you, seven!"
The actors and crew quickly move all the structures from the back wall of the theatre to their proper place on stage.
"Five minutes!"
"Thank you, five!"
The actors and crew bring all the small props out onto the stage and the scene begins to come together.
"Three minutes!"
"Thank you, three!"
The stage is almost ready, the cyc is about to lower and the finishing touches are being brought out.
Friday, March 5, the Theatre Kats put on a public performance of their one act play, A Streetcar Named Desire. 
Everyone involved in the production deserves recognition for all the hard work they have put in, and the VOW staff says 'break a leg 'on their UIL competition that will take place Friday, March 12.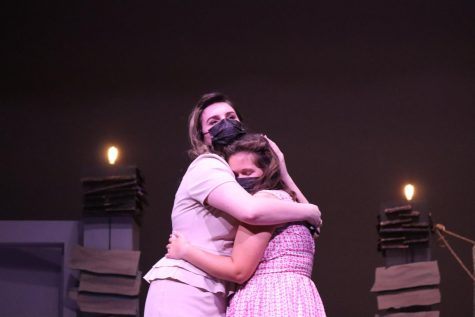 I went into the play blindly with zero prior knowledge, which I believe is the best thing to do when going to see a show. I think that each student casted fit their role very well and perfectly portrayed the type of person they were supposed to be. "A Streetcar Named Desire" is a very dark play with mature themes and for high school students I think that they handled it very well. The two main leads, senior Jill Berger and junior Zoe Picken, played sisters Blanche and Stella who are complete opposites, with one suffering from mental illness and the other starting a family with her abusive husband. The chemistry Berger and Picken had was unmatched, with both displaying the right attitudes towards each other just as real sisters would.  – Katherine Lee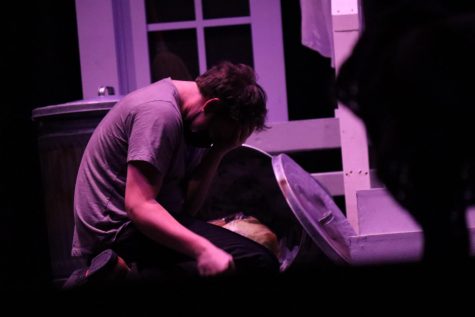 As the lights dimmed in the PAC, I had some idea of what the play would be about but once it began, I was blown away. The drama department did an amazing job on their performance. From a physically and emotionally abusive couple, to a sordid and mentally ill sister, this show spotlighted many aspects of a toxic relationship. For putting on a play with  such violent and mature content, each actor was excellent at portraying their messed up and sick characters. I think that junior Josh Brookshire was perfect for the role of Stanley and even though he had to act with a mask, he showed how vile his character was through his eyes. With every move he made, I didn't know what to expect from this hot headed and heartlessly cruel character. Sophomore Brody Mcnew also gave an amazing performance of his character, Mitch. His emotions and feelings towards Blanche were very obvious and I could tell that he wanted to have something with her. In the end though, he didn't end up with Blanche and his reaction at the end of the show when he found out that Stanley was lying about raping Blanche was outstanding. – Summer Rains
I went into the performance with little background information. I knew it was going to be a play for mature audiences, but the portrayal of the script by the cast absolutely astonished me. The acting was so good that I had to keep reminding myself it was only a play and not real when the darker scenes were performed on stage. I loved how the actors were able to step outside of themselves and completely change according to their character. The actors were so flawless they absolutely entrapped me in the horrors and darkness of "A Streetcar Named Desire." The actor playing the younger version of the main character, Blanche, was senior Bailey Chapman. She and junior Colton Land, portraying Blanche's early life love interest, did an impressive job on their part in the performance. They had to play their parts solely on body language because they had no dialogue, and the challenge was even greater because facial expressions could not be seen due to their required masks. Despite these challenges, they were still able to give a heartbreaking performance, showing their true skills as actors. Junior Faith Miner was also presented with the challenge of performing almost only through body language. Her part was interesting as she was tasked with playing death. The mood she created while onstage and performing her short song filled the PAC and left the audience amazed at the ferocity, yet gloomy presence of the performance.  – Heather Jackson
Leave a Comment