Bash to celebrate 115 years of life as Wildkats
Education foundation hosts WISD birthday party
Six years after the turn of the twentieth century, Theodore Roosevelt is president. It has been three years since the Wright brothers made history. Ford's Model T is two years from production and the First World War won't begin for another eight. In that year, citizens of a small Montgomery County town form a public school in the formerly private Willis Male and Female College. Willis Independent School District is born. 
To celebrate Willis ISD's 115th birthday, the Willis ISD Education Foundation will host a birthday bash this Saturday at The Woodland Hills Activity Center.
The birthday bash is a big event for the WISD Educational Foundation. The group of volunteers work hard for the students and teachers of the school district.
"I feel it is important to contribute to the WISD Education Foundation because this organization is all about supporting our teachers and students," Harkrider said. "It is a non-profit organization that is totally committed to our school district and helping us improve." 
As the district celebrates its birthday, it recognizes that growth and change is inevitable. The leaders of the district are planning for the future. 
"Enrollment here has grown by 2,000 students in my nine years in the district," Harkrider said. "We have also built five new facilities in my time here which has really changed the landscape of our district. I am predicting that our student enrollment will double within the next ten years, and we will have a third middle school, a second high school, and elementary schools seven and eight. It is going to be a future that we will be proud of."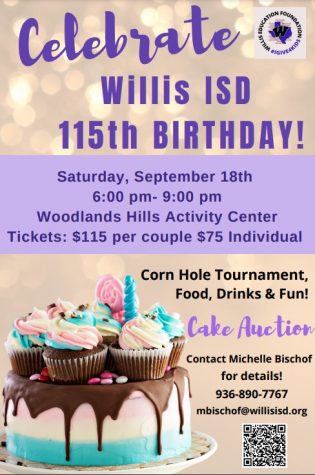 Willis has come a long way from meeting in the burned down college building. The growth and development of Montgomery County has greatly affected the district.
"I think the biggest change has been the growth of the school district," Harkrider said. "The small country town with just a few campuses has developed into a 6A high school district with over 8400 students." 
When looking at the vast change in the past few years, it is hard to imagine that small schoolhouse that started WISD 115 years ago.
"This is year 22 for me in the school district," CTE Director Travis Utecht said.  "Obviously, growth is the biggest change during my time.  When I started there were only three elementary schools and one middle school.  Both of those numbers are now double.  But, with that growth has come a ton of opportunities for our students.  We offer the students many more choices than we could 20 years ago.  I am very proud of our school district and how it has embraced the growth and used that to drive improvement across all areas.  We have seen improvements in athletic facilities, fine arts buildings and of course the CTE center." 
The goal of the education foundation is to help the district and its teachers and students prepare for this future. They fund grants for teachers all over the district.
"I am proud to support the Education Foundation," Utecht said. "They give thousands of dollars every year to teachers across the district to improve instruction and opportunities in the classroom." 
At the 115th Birthday Bash, the community will come together to celebrate Willis's past as the foundation raises money for the future. 
"Every dollar brought in by the foundation through fundraising events and community partnerships is given back to Willis ISD," Community Involvement Liaison Michelle Bischof said. "We give out innovative Teacher grants each year and have given back over $400,000 the last 10 years.  This year we will give out the very first student scholarships to graduating seniors."
A birthday bash wouldn't be official without food and games.
"It is about celebrating the amazing accomplishment of educating Wildkats for 115 years," Bischof said. "This fundraising event will feature fajita dinner, adult beverages, Cornhole tournament, outdoor games, caricature artist, photo booth and a cake auction. All money raised that evening will go back to Willis ISD."
Leave a Comment
About the Contributor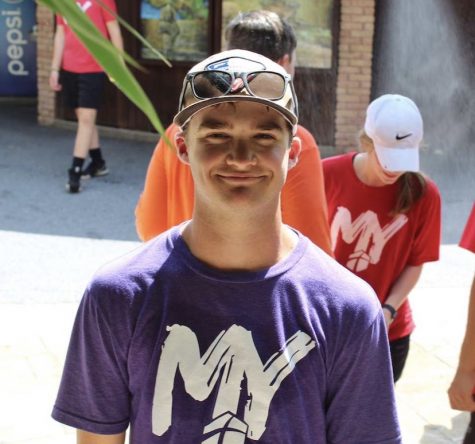 Brenan Mansker, VOW Multimedia editor
Brenan is a senior, one of the multimedia editors and a tennis co-captain. He is a member of the UIL journalism team and was the District Champion in Copy...