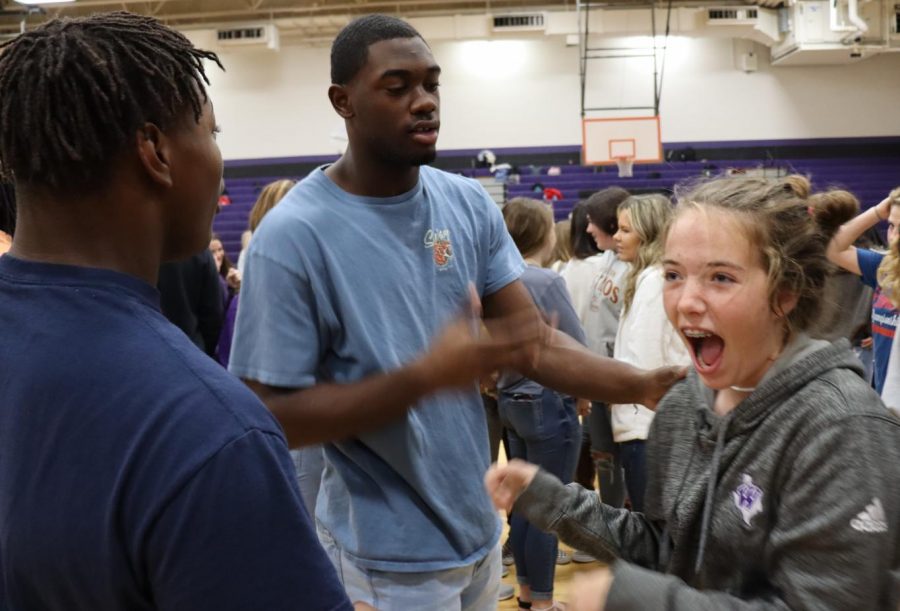 photo or infographic by Sure Ibukun
Spreading kindness key to FCA's mission
Nov 13, 2019
As the Fellowship of Christian Athletes members opened the doors for the students as they walked into school, one by one the students trickled in through the doors and walked right by them. They realized that some students looked happy, but others were struggling to find a smile or kind word.
"
The idea behind the project is that kindness is not something reserved for some students. It is for everyone, and everyone deserves it."
After noticing this, Coach Carey and the FCA members formed a solution: to spread messages of kindness across the campus. The idea behind the project is that kindness is not something reserved for some students. It is for everyone, and everyone deserves it. 
"We wanted to spread kindness to promote positivity throughout the school, because everyone deserves to be reminded that they are here for a reason," junior Megan LeBlanc said.
The club is promoting kindness in many ways from opening the door for someone to offering a smile or a nice note. 
"For an FCA activity, we wrote anonymous notes with kind and inspiring words on them to hand out to kids getting off the bus to try to spread kindness throughout our school," sophomore Heather Jackson said. 
The club meets most Wednesdays during academy. It is a place for students to come in and enjoy every second of it.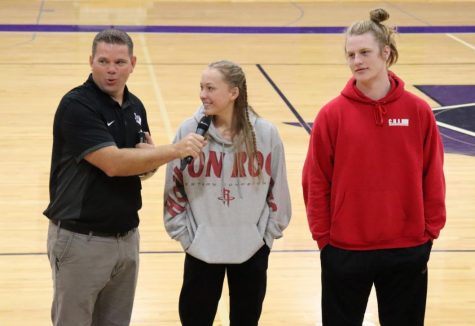 "FCA is a place where kids can talk and learn about God," Parker said. "It is pretty cool to have that at school."
Students of FCA are feeling the positive nature of the meetings and seeing the impact of the club around campus. 
"It is one of the most empowering and positive places that has an amazing message," junior Tyler Heffernan said. "I think the acts of kindness are really bringing smiles to our school."
Some students have set goals for themselves and the group as a whole. 
"In FCA, we want to spread kindness to show others that we reflect God, and we aim to make an image of God from ourselves," junior Kelsey Rogers said. "We believe that helping others and always being kind is a powerful way to spread the gospel. This year I participated in writing random, kind notes and handing them to strangers. By doing this, I have made many friends by giving and receiving smiles."
FCA, student council hosts stay and play for faculty's children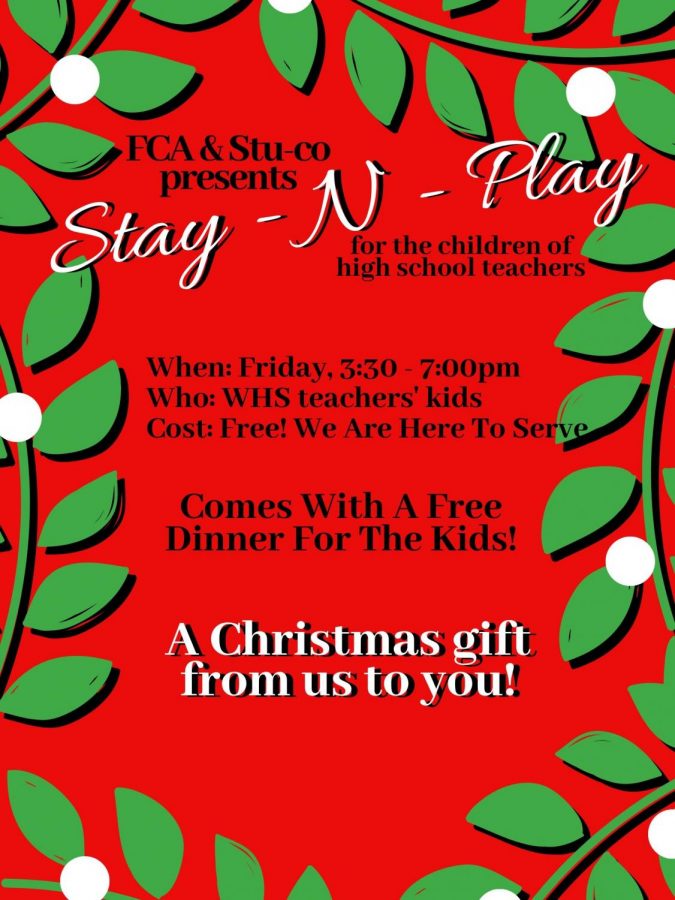 photo or infographic by Hailey Alvarez
FCA and Student Council are offering an early Christmas gift for teachers with young kids with a free stay and play on December 13. 
"We will have games and snacks for all of the kids and keep them entertained while their parents can go Christmas shopping," student body president Gracie Dorris said. "I think the best part of the project is that we are able to give back to our teachers who devote so much time and energy into our education."
Stay and play is an event that allows teachers with kids to drop them off and be able to have the time and privacy to go on a date night or Christmas shopping. The event will have  will have activities and food for the kids.
"I am excited to have something fun and safe for my child to come enjoy on a Friday after school," Coach Brandy King said. "Free makes it even better."
Students involved in FCA and Student Council have volunteered for the evening. They will be led by Coach Keith Carey and chemistry teacher Lindsay Carey.
"Mrs. Carey and I are in charge of an army full of wonderful WHS student volunteers who will take great care of your kids and watch them from drop off to pick up," Coach Carey said.
Drop off will begin at 3:30p.m. in the LGI and pick up will be at 7:00p.m. The parents will have to print out the document attached to the email sent to staff and bring it with their child at drop off.  The event will give teachers a little time to shop and prepare  for the holiday. 
"I think it shows how servant oriented our students and staff are," health science teacher Katrina King said. "This gives parents a chance to have some time during this season that can be filled with so many activities and stress."
While the kids are enjoying the fun activities organized the WHS student volunteers will be cooking up a kid friendly dinner for the kids.
"I am very excited about the stay and plat on Friday," Coach Johanna Hourahan said. "This time of year is super busy and being able to have some kid free time to shop is amazing. I am so proud of FCA and Student Council for providing such selfless service for their teachers."
Leave a Comment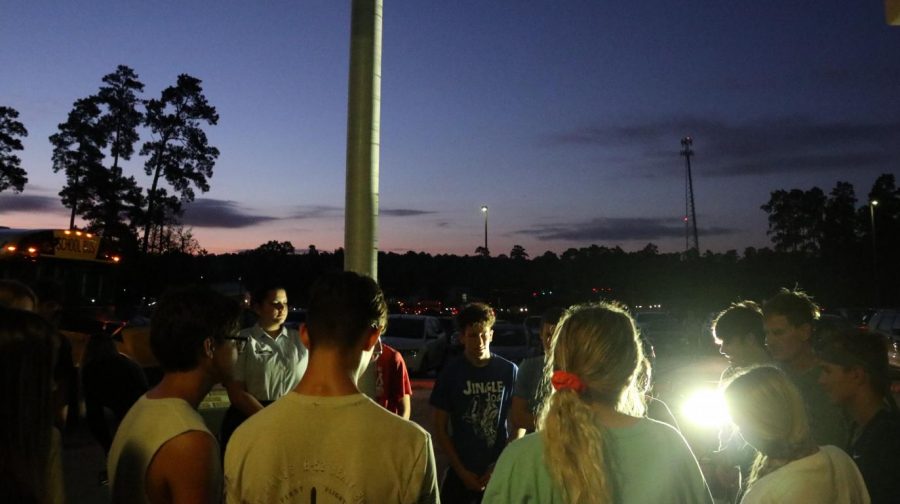 photo or infographic by Kelsey Soape
See You at the Pole brings students together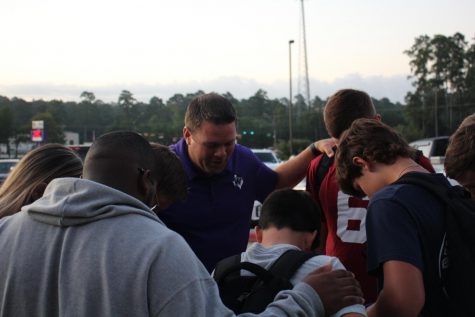 As the sun rose over the road filled with buses and cars dropping students off, students started gathering at the front of the school. After quick hugs and a little small talk, they held hands and bowed their heads in prayer. Praying for their families, their friends and their school, about 30 students gathered for See You at the Pole on September 25th. 
"I didn't expect a large crowd, but I was expecting God to move in the lives of students who attended," junior Kayla Lyons said. "I loved this event, It was cool to see students who you didn't even know were Christian like you and worship with them." 
The event, typically held the fourth Wednesday of September, originated in Texas. According to syatp.com a group of teenagers in Burleson, Texas prayed for their friends, schools and leaders during a retreat in 1990. They traveled to their school's flagpole moved to pray. The first nationwide event occurred on September 11, 1991. Now each year millions of students around the world come together for See You at the Pole. 
"We had See You At the Pole when I was in high school and it was actually very similar," FCA sponsor Coach Keith Carey said. "I'm excited to apply and see how time has tested students over the years in their worship." 
The event is for any school, regardless of grade level. Events were held at other Willis ISD schools. 
"It's awesome to know that the movement of Jesus is actively affecting students' lives across the nation," Lyons said. 
SYATP is a student lead event. Teachers and staff members are invited to attend, but like in the first meeting over 25 years ago, students are the ones who lead. 
"It made me very happy to see so many students step up and lead in prayer and worship," Carey said. "I felt proud and excited and hopeful to see so many students not only at our school but across the country coming together in faith."
SYATP encapsulates faith among students busy schedule. It is more than just another social gathering, it is a time of peace and unity among Christian students in the school.
"I don't think it could've been any better," Lyons said. "Of course you can always have a bigger crowd, but the people there were amazing and it was great to worship with other Christian students. I think sometimes students get caught up in the chaos of high school and forget about the Lord." 
Leave a Comment