See You at the Pole brings students together
National Student Prayer Week joins Wildkats of all denominations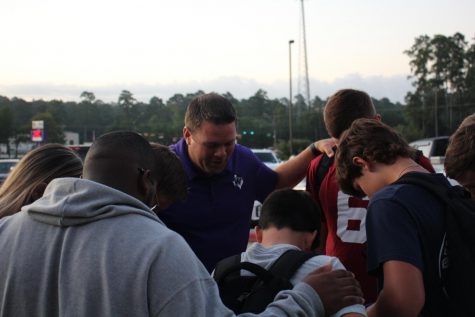 As the sun rose over the road filled with buses and cars dropping students off, students started gathering at the front of the school. After quick hugs and a little small talk, they held hands and bowed their heads in prayer. Praying for their families, their friends and their school, about 30 students gathered for See You at the Pole on September 25th. 
"I didn't expect a large crowd, but I was expecting God to move in the lives of students who attended," junior Kayla Lyons said. "I loved this event, It was cool to see students who you didn't even know were Christian like you and worship with them." 
The event, typically held the fourth Wednesday of September, originated in Texas. According to syatp.com a group of teenagers in Burleson, Texas prayed for their friends, schools and leaders during a retreat in 1990. They traveled to their school's flagpole moved to pray. The first nationwide event occurred on September 11, 1991. Now each year millions of students around the world come together for See You at the Pole. 
"We had See You At the Pole when I was in high school and it was actually very similar," FCA sponsor Coach Keith Carey said. "I'm excited to apply and see how time has tested students over the years in their worship." 
The event is for any school, regardless of grade level. Events were held at other Willis ISD schools. 
"It's awesome to know that the movement of Jesus is actively affecting students' lives across the nation," Lyons said. 
SYATP is a student lead event. Teachers and staff members are invited to attend, but like in the first meeting over 25 years ago, students are the ones who lead. 
"It made me very happy to see so many students step up and lead in prayer and worship," Carey said. "I felt proud and excited and hopeful to see so many students not only at our school but across the country coming together in faith."
SYATP encapsulates faith among students busy schedule. It is more than just another social gathering, it is a time of peace and unity among Christian students in the school.
"I don't think it could've been any better," Lyons said. "Of course you can always have a bigger crowd, but the people there were amazing and it was great to worship with other Christian students. I think sometimes students get caught up in the chaos of high school and forget about the Lord."