COVID-19 concerns prompt school closing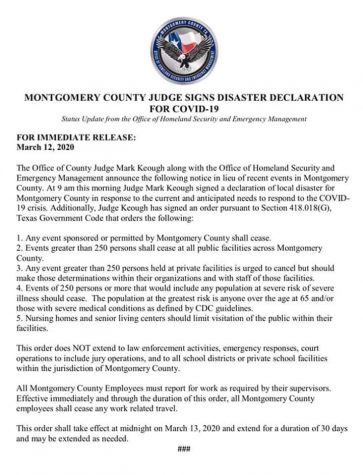 Amid concerns of the coronavirus, Willis ISD announced Thursday that school will not return from spring break until March 23rd.
According to a press release from the district they will send out further communication about the reopening.
"An update will be sent out by Friday, March 20 to communication if schools will stay closed or reopen on March 23," the release said.
The closure affects all activities including sports, before and after school activities and extracurricular activities.
"At this time, district administrators do not have any information on how the school closure will impact extracurricular activities moving forward other than at this time we are not to hold any activities or games," Jamie Fails, WISD Communications Director said.
Many students are concerned about the status of the remainder of the year and graduation.
"I have been looking forward to graduation all year," senior Caroline Taylor said. "I've invited all of my family already and let them know the date. I've been waiting almost 19 years for this just for a huge scare to possibly push it back further."
An update will be sent out by Friday, March 20 to communicate if schools will stay closed or reopen on March 23.
"We encourage students and staff to consider heeding the advice of local officials to practice social distancing and enjoy the extra time at home," Fails said. "Read a book, write in a journal, and catch up on your favorite movies."
The announcement of school being closed occurred hours after news from Montgomery County Office of Homeland Security and Emergency Management released a disaster declaration. At 9 a.m. on Thursday, Judge Mark Keough signed a declaration of local disaster for Montgomery County.  The declaration stated that
Any event sponsored or permitted by Montgomery County shall cease.
Events greater than 250 persons shall cease at all public facilities across Montgomery County.
This halted all plans for the Montgomery County Fair. The event includes hundreds students from the district including current Montgomery County Fair Queen senior Grace Hoegemeyer.
"If I had known last year would be my last county fair and my last chance in the ring, I would have savored the moment a lot more," she said.
The extra week off from school is welcomed by most students, but many questions are unanswered about events that were scheduled during that time.
The Winter Guard received notification on Thursday that the remainder of their contest season was cancelled by the Texas Color Guard Circuit. This includes contest this weekend and a possible trip to the state meet.
"When our directors told us that our championship was cancelled, I was really mad," sophomore Hailey Alvarez said. "Our guard has worked hard on the show. We were finally feeling like a team and we were all ready for this last contest only to find out that is was cancelled."
According to school officials, students and staff should use caution when planning activities for their week off.
"Please listen to the warnings of health officials and try to avoid going anywhere where large groups gather," Principal Stephanie Hodgins said. "If you do go somewhere, make sure you wash your hands and avoid touching your face. I need all of you to stay healthy."