Students make plans for future after coronavirus
Unprecedented times mean uncertain future
With Texas school closures being extended until May 4th, the future is uncertain. Such an unprecedented situation is uncharted territory for everyone. Events that were once on a fixed schedule are now followed with an indefinite number of question marks. Entire sporting seasons, UIL, and prom, just to name a few, were all things that students were excited about and spent months preparing for. While it cannot be said when these troubling times will be over, one thing is certain: the world cannot wait for things to go back to normal.
With businesses closing left and right because of the coronavirus, many Americans have been left jobless. However for a teenager stuck at home, chores are one form of employment. 
"I have been making money from doing chores around the house," sophomore Chris Gallegos said. "By the time this is over, my wallet is going to be full, so I'm going shopping."
The CDC has recommended keeping a six foot distance from others to prevent spreading of the virus, forcing friends to remain apart for the time being.
"The first thing I would do is get together with my friends because I haven't seen them for a while, and I miss them," sophomore Abi McNew said.
There is a limited number of things to do while indoors, so many people are going stir-crazy from being inside for so long.
"After coronacation, I just want to go out and have fun," junior Alex Hopkins said. "I'm tired of being cooped up inside. I just want some fresh air."
Every day, there is something new being said about the coronavirus. It can be hard to keep up.
"I just want to go see some friends," junior Jesus Santana said. "Having to do online school and trying to keep up with everything in the news lately is tiring. I just want to relax and enjoy an actual vacation."
To prevent large groups from gathering, things like zoos and parks have been closed for the time being.
"I would get all of my best friends back together, and we would get out of the house and find something fun to do like go to the zoo or the park or something," senior Alexia Murtagh said. "I really miss my besties."
With SAT tests and college visitations being cancelled, many students have been forced to put their future plans on hold.
"I'm planning on going and finishing up stuff for my future," senior Taylor Durrenberger said. "This whole virus has put a stop to my plans, but as soon as I can, I'll be out and about."
Throughout history, many people have turned to religion during times of hardship to get answers. This crisis has closed some churches and changed the way worship looks.
"The first thing I'd like to do is go to church," freshman Marlee Wooley said. "I miss being able to worship and show my love of God through song and prayer."
Even for people that enjoy the comfort of their own home, being stuck indoors is starting to become frustrating.
"I used to enjoy staying home, but now, knowing that I actually can't go anywhere else, I want to get out of the house now more than ever," freshman Terry Ray said. "As soon as this is over, I want to go to Whataburger with my friends."
During such an uncertain and stressful time, the mental and emotional health of many are suffering.
"I would give everybody that I haven't seen a huge hug because I miss every single person, and having to stay away from everybody, makes me incredibly sad," senior Owan Alleman said. 
Having everything taken away all at once, makes students realize how much they took the small things for granted in the past.
"Now that I actually have the time to be on my phone, I've grown tired of it," junior Hailey Goodson said. "The first thing I'd like to do is go sit in a fast food place with my friends and stay there for hours. We didn't really appreciate those times until we did not have them anymore."
Leave a Comment
Donate to The Voice of the Wildkats
Your donation will support the student journalists of Willis High School. Your contribution will allow us to purchase equipment and cover our annual website hosting costs.
About the Writer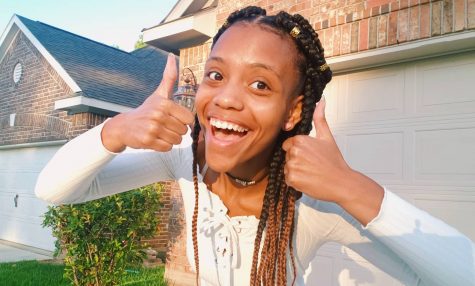 Terri Ray, VOW staff
Terri is a senior. She is a member of both the yearbook and newspaper staff and is a fourth year journalism student. She was elected secretary of her class...