RIP: Rest In Power
One glance at Chadwick Boseman on screen is all it takes to notice his magnetic energy. He commands the attention of the viewers and shows confidence like few before him. On  August 28, 2020, when colon cancer took his life at the age of 43, the world lost a treasure. 
Chadwick graduated from Howard University in 2000 where he obtained his Bachelor of Fine Arts in directing. He later attended the British American Drama Academy in Oxford, England. Starting small and involving himself in multiple stage productions, Chadwick ended up winning an Audelco award for his role as TJ in the production of Urban Transitions: Loose Blossoms. He was not done yet; he wrote plays and directed a number of stage productions. Chadwick was very persistent and always pushed for the next level. He made his name known in the early 2000's by having guest appearances in TV shows and later landed his first main role in Lincoln Heights. He would later go on to become the star in multiple movies and became surrounded by superstardom by playing King T'Challa in Marvel's movie Black Panther. Black Panther won many awards, broke records and made over $1.3 million worldwide. 
Chadwick Boseman never failed at leaving an impact on this world. He has played numerous historical and inspiring roles such as Jackie Robinson in the movie 42, James Brown in Get on Up, and Thurgood Marshall in Marshall. But becoming Marvel's first black superhero was his most memorable and unforgettable role played which brought on more radiant light on his career. Yet, no one knew his role in Ma Rainey's Black Bottom on Netflix would be his last. He was dedicated to the craft of making films and bringing characters to life.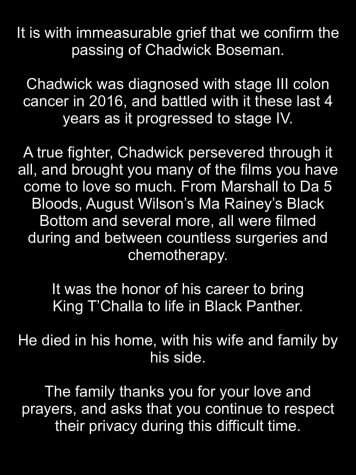 Since being diagnosed in 2016, he has starred in nine films while pushing through his treatments and pain to create movies that radiate power. His legacy will continue to thrive and inspire others. Gods of Egypt, Captain America: Civil War, Message from the King, Marshall, Black Panther, Infinity War, Endgame, 21 Bridges,and Da 5 Bloods were all films that Chadwick Boseman starred in as he was fighting with cancer. He never stopped doing what he loved despite his condition. Boseman didn't let cancer stop him from pursuing his roles in films. This is so important because some people stop or slow down as soon as they get bad news, but not the actor of Black Panther. 
With the passing of Chadwick Boseman came many broken hearts. His unexpected death shocked the world and added another horrible event to the 2020 calendar. The world lost a great soul who wasn't afraid to stand when others sit. A person who stood with so much power and wisdom was taken away and can never be replaced in the hearts of his fans around the world. Fighting with the pain and treatment made him superhuman. It makes sense that he played the most a superhero's role because he kept on fighting even when things got difficult. He never failed to show the world what is possible. Chadwick Boseman left a mark on this world and it will never be forgotten. Rest in Power.