From babies to UNO, Turner Troop fills needs of teachers, CTE class
Toot toot! The Turner Troop is leaving the station.  At 6:45 a.m., the Turner Troop meets family and consumer science teacher Dena Horne by the cafeteria in the main building, then they march out to the CTE building. The children of high school faculty and staff stay in her classroom and work on different activities with her students before walking over to Turner Elementary for school.  
Although this was not quite her plan, Horne has been quick on her feet to think of what to do for her class.
"Originally, I had planned for my child guidance class to intern at a preschool in town, but with Coronavirus, we were having trouble getting permission to do that this year," Horne said.  "When Mrs. Parker sent an email out to the staff asking how many had children that needed to be walked to Turner every morning for school, I had a light-bulb moment."
Although it is a necessity to most teacher parents who need someone to watch and walk their kids to the elementary school, that is not the only reason for making them attend this class.
"I put my child in this program for two reasons," art teacher Amber Brumlow said.  "First, out of necessity.  Because of the block scheduling, my first period conference is only every other day, so I'm not able to walk him over to Turner.  Second, because of the quarantine, he truly missed being around other people, and I thought this would be a good opportunity to make up for lost time."
The children are not the only ones who love being a part of the Turner Troop. 
"It's so cool to get some in class experience," Davenport said. "We actually are working on a project right now where we are coming up with lesson plans for each subject of a specific grade.  Hopefully we will get to show these off to our kids in the morning."
This program not only helps the teachers, but also benefits the children in the Turner Troop.
"My children absolutely love it,"  math teacher Jennifer Mitchell said.  "It has helped my children learn to talk and communicate better."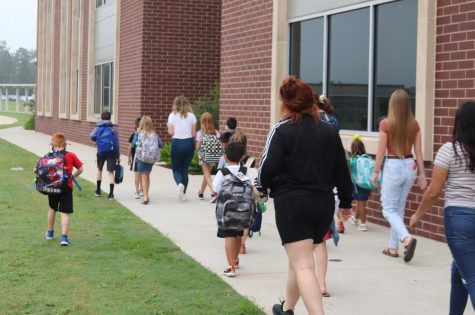 Her class not only works with the children in their class time, they also work with them and many other children at the elementary school.
"It has worked out perfectly for us to do activities with the Turner Troop every morning from 6:45 to 8 a.m., and then walk over to Turner Elementary,"  Horne said. "Three days out of the week, the child guidance students stay at Turner and work with various teachers throughout the school, honing their skills at working with children."
The students are learning new things everyday from being a part of the child guidance class. 
"I am learning how fun children can be," senior Lindsay Davenport said. "I feel like children are usually made out to be burdens, but the children are seriously so fun and such a breath of fresh air."
The children are not only learning school activities, but also some essential life skills with some toys. 
"My favorite part of going to Ms. Horne's class in the mornings is getting to play with the babies," Turner student Julia Mitchell said.
After administration approval, Horne started recruiting kids for the group.
"The biggest obstacle was getting permission from Superintendent Tim Harkrider, but when I explained to him part of the TEKS for this class involved hands-on experience with children, he was excited for the program," Horne said. "It's a win-win for the staff parents, the child guidance students and the kids involved in the Turner Troop."
This program is not only beneficial for the teachers that are parents of younger kids, but it is also helpful for the children.  
"This program has boosted my son's confidence as far as social interactions go," Brumlow said.
Familiar games for children help them get settled into the class during the mornings.  
"My favorite part is playing Uno and arranging the building blocks," Turner student Lucas Brumlow said.
They do not always do the same activities every single time, they try to change it up periodically.
"Some activities we do with the Turner Troop are activity videos to get them up and moving so early in the morning, board games, sensory activities – such as the rice bin and play-dough – and imaginative play with our kitchen, puppet theater and baby dolls," Horne said.
Leave a Comment
Donate to The Voice of the Wildkats
Your donation will support the student journalists of Willis High School. Your contribution will allow us to purchase equipment and cover our annual website hosting costs.
About the Contributor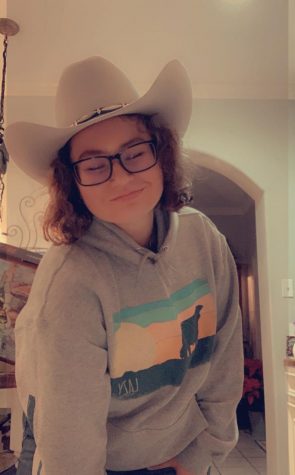 Carlie Rutledge, VOW co-editor
Carlie is a senior, plays varsity tennis and is historian for National Honor Society.  She hopes to go to the University of North Texas to major in photojournalism....