Volleyball team under quarantine after player tests positive for COVID-19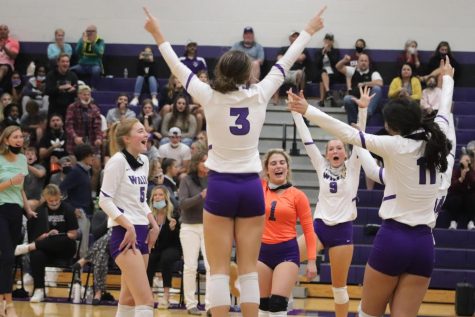 WIth new cases of COVID popping up almost daily at the high school, members of the varsity volleyball team are some of the latest students under quarantine. During a trip last weekend to New Braunfels, one of the players started feeling sick. After returning from the trip, she tested positive for the virus, and the whole team and the coaches were told that they had to quarantine. 
"I immediately freaked out and was in disbelief when I found out that I had tested positive," junior Rylee McDonald said. "I never thought I would have gotten it." 
Since the team spent the weekend together, all players and coaches are under a 14-day quarantine.
"When I found out one of the girls had COVID, it took a little bit to actually sink in," varsity coach Megan Storms said. "I was disheartened for the team, knowing that all of us would have to quarantine for 14 days." 
This virus affects people in many ways, but a common denominator for the disease has been that it makes each person feel dreadful for a couple days.
"The first three days were miserable, but the rest of the days, I started to feel much better," McDonald said. "I've  gotten the chance to catch up on a lot of work and I have spent time outside relaxing while I've had to quarantine." 
Even with something as serious as the coronavirus, there are still some people who do not think it will affect them, but by now, the virus has touched everyone's life in some way.
"My initial reaction was shock," junior Georgia Everett said. "I knew something was off when she texted us, and that night I began to feel sick as well. I think this will honestly bring our team together even more because we are all experiencing this together."