From 'B-list' celebrity to A-list teacher
Before making his mark as a music educator, choir director Ken Labonski made his way in the 90s music scene.
As the house lights dim and the hum of a mic fills the room, the performer looks out into the crowd, takes a deep breath and knows that this is where he belongs. 
For choir director, Ken Labonski, the stage of the PAC has not been the only stage where he has left an audience speechless. Before he became a part of his student's lives, he was a part of a band, Azure Bloom. The band rocked the Chicago music scene in the early 90s and reached the pinnacle of success when they opened for Hootie and the Blowfish, but before their success, they were just a group of four from DePaul University Music Conservatory in Chicago, Illinois.
Now, as separately successful men who have made their way in music in different ways, the band has decided to rerecord their old music and catch up. Summer of 2021, Azure Bloom will meet again at a recording studio in Chicago to experience the music they wrote as kids in college.  
"There was a guy named Mark Lonsway, who is another singer and guitar player, who I knew from school," Labonski said. "We started hanging out and writing some tunes, and it became a thing where we started playing them together. Before we knew it, people were asking us to play at different social events and bars around the Chicago area, and that's when we got Jeff Kolwitz, our bass, and Christian Larson, our piano and percussionist."
Now the four juniors in college had a name for themselves, Azure Bloom, and started with no specific aspirations or goals to be the biggest band of their day. Different departments asked the band to perform and play for them and eventually, they were given an offer that would change everything. 
courtesy of Azure Bloom
"My senior year we were approached by a representative from a recording company called C12 Records," Labonski said. "We were asked to record an album, and our first one was Looking is Free, which was about a year long project. This was my first experience recording an album, and we even had a producer, an engineer and a few executives from the record company."
The recording company booked studio time at Hinge Records in Chicago, which was the "jingle town" of the recording industry. Bands and artists were given prescribed lots to perform and Azure Bloom was booked for ten at night to sometimes three or four the next morning. And as he was trying to make it in the music business, he was also spending his days studying as a double major in classical guitar and music education.
"Studio time is the most important commodity in the industry and was very valuable," Labonski said. "We were considered 'B-list' meaning we had second priority to other A-list musicians. We would get a call from our producer sometimes saying, 'Hey, we need to bump y'all's time back to midnight' if an A-list musician went over their time slot. And we were college students so when we had these early morning recordings, we all had to get up and go to school the next day."
Azure Bloom had many highlights in their time as a band together that has shaped them into the musical directors and performers they are today. 
"We got the chance to open for Hootie and the Blowfish, at The Fest in Chicago," Labonski said. "We played the main stage at the House of Blues a few times, and we had the experience of being in the dressing room where all these famous artists signed the walls, like Robert Plant from Led Zeppelin. I signed my name in the bathroom behind the trash can because I did not feel I was worthy enough to sign my name on this wall. We also got the chance to tour and go out and travel in the country and play some music with other artists and really have that true 'band' experience."
The time on stage, the time recording on studio, and the time touring as a band has taught Labonski lessons that he could not learn in a classroom. These are the experiences that he shares with his students today.
"I never feel like I was leaving something behind, it was my choice to be a teacher and to make music with young people and was nothing I settled for," Labonski said. "There is a lot of depth that I can teach to my students because I have had all of these music experiences before I became the teacher I am today."
Leave a Comment
Donate to The Voice of the Wildkats
Your donation will support the student journalists of Willis High School. Your contribution will allow us to purchase equipment and cover our annual website hosting costs.
About the Contributor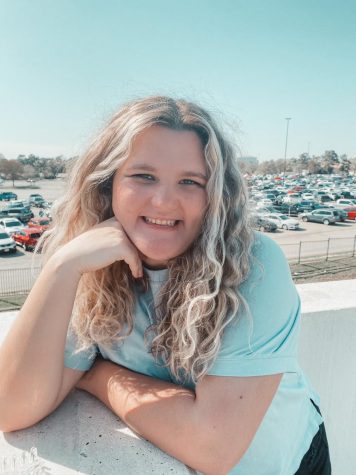 Katherine Lee, VOW editor
Katherine is a senior and co editor of the school newspaper. For the past 2 years she has made All-State Journalism Staff and made it to regionals last...