Just say 'yes' to Red Ribbon Week
October 26-30 has been designated as Red Ribbon Week. The week is known for dress up days, but there is a real meaning behind those red ribbons pinned to shirts across the nation. 
According to justthinktwice.gov, Red Ribbon Week was founded in 1985 in honor of fallen Drug Enforcement Administration special agent, Enrique Camerena. When he was investigating some drug traffickers in Mexico, he was brutally murdered by the suspects. In order to honor him after he died, people started to wear red ribbons. 
Today, millions of people across the country wear red ribbons and complete community tasks in honour of Camerena's sacrifice. 
Even though there is an in-depth meaning behind Red Ribbon Week, students still get to have some fun with how they participate in the activities during the last week of October. 
"Other than spreading awareness to not do drugs, dressing up and seeing the other students' creativity is always interesting," senior Bailey Gordy said.
The campaign against drugs is necessary for all ages, even if they have a family and are not little kids anymore.
"Red Ribbon Week is very important because drugs can ruin families and split them apart," sophomore Rohan Patel said. "A lot of children grow up in unorganized households because of drugs."
Red Ribbon Week not only honors Camerena, but also lets people know that abusing drugs is not what they should be doing.  
"I support Red Ribbon Week because I think it is important to bring awareness about drug abuse," senior Emily Perez said. "The more people who support it, the more it helps bring people who use drugs into the realization that what they are doing is not good."
This week does not only offer a time to promote not using drugs, but also gives participants a chance to make participating fun and creative.  
"I support Red Ribbon Week because it is important to express the fight against drug use, and make it enjoyable while doing it," senior Megan LeBlanc said. "We need to support Red Ribbon Week because it is meant to promote awareness of drug use throughout our school and the community."
Dressing up on the days allotted, gives participants the opportunity to promote being drug free. 
"I am going to dress up during Red Ribbon Week because that is one thing I can do to promote the benefits of being drug free," LeBlanc said.
Red Ribbon Week not only honors Camerena, but also people who are close to each participant.  
"I support red ribbon week because I know people who have struggled greatly with drugs and who still greatly struggle," sophomore Rylee Neumann said. "I want to support not doing drugs, so other people don't have to deal with those same problems." 
Being drug free helps people take care of their own well being. 
"I support red ribbon week because it encourages the youth of the school systems to say no to illegal drugs," senior Tyler Knopp said. "It is very important to support red ribbon week to try and help guide students in the right direction and keep care of their bodys." 
Recreational drugs cause more harm than good, and Red Ribbon Week shines a light on that.  
"I support Red Ribbon Week because it is a week dedicated to awareness about drugs," sophomore Emma Baron said. "It is important because people need to know how dangerous drugs can be."
Sometimes in order to touch someone's life and offer help, all someone needs to do is participate in community events that raise awareness. 
"I think it's so important that we spread the word and awareness to help prevent drug abuse," senior Jenna Day said. "I support red ribbon week in hopes that it will truly help someone out." 
Drugs not only harm a person's physical appearance but also their ability to be present with friends and family. 
"I support Red Ribbon Week because I've watched a lot of my close friends fall into bad habits and became distant because of it," senior Bailey Chapman said.   
The point of doing Red Ribbon Week activities is to spread the message throughout the community, and sometimes that starts within the school.  
"I think it's important to support red ribbon week because it helps create awareness all around the school," Chapman said. 
Sometimes people support an event because of the people who they hold close to their hearts. 
"It's important to support Red Ribbon Week so we can support the family members that we've lost," sophomore Abigail Minter said. "My dad used to do drugs, and he's been a big influence on my life. I'm proud of him that he quit."
Leave a Comment
Donate to The Voice of the Wildkats
Your donation will support the student journalists of Willis High School. Your contribution will allow us to purchase equipment and cover our annual website hosting costs.
About the Contributor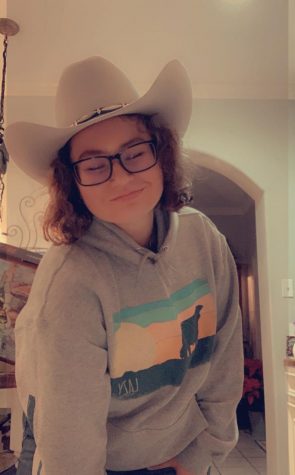 Carlie Rutledge, VOW co-editor
Carlie is a senior, plays varsity tennis and is historian for National Honor Society.  She hopes to go to the University of North Texas to major in photojournalism....