New building symbol of loyalty, dedication, love of long-time Wildkat
Administration building honors past while planning for future growth
For 49 years Sharon Hill Jennette was assistant to the superintendent. Year after year she worked day to day with 29 superintendents leading the district. When she started at WISD after graduating from Willis High School in 1969, the district was a small, rural school district. When she retired at the end of May in 2019, Willis was planning for unprecedented growth. 
The process of planning a new administration began in the Fall of 2018. Little did Jennette know that members of the administration and community she had served for almost half a century were working behind the scenes to name the building in her honor.  The Willis ISD Board of Trustees members voted to name their new central administration building after on May 28th. Hill-Jennette retired May 31st and passed away the very next day.
"Her service to our school district was incredible, and we felt like the best way to honor our longest tenured employee was to name the new Administration Building after her," Superintendent Tim Harkrider, Ed.D. said. 
The Sharon Hill Jeanette Administration opened its offices this week. The building houses different departments that were in buildings ranging from 56 to 96 years old. 
"Our buildings were getting older and harder to maintain," WISD Director of Communications Jamie Fails said. "Departments were spread out into different buildings so by using the existing land we already own and using the our general savings, we saved time and money for the new administration building. Willis is growing it's important to project ourselves to the community as a school district that is up with the times and not stuck in the dark ages."
With the district growing meant more space was needed to expand. The new building will allow smooth and strategic communication among the many departments that had been spread out over time.
"As we grow as a school district, it is imperative that everyone at the district level is on the same page and efficient," Harkrider. "Having everyone under one roof will allow us to be more efficient and strategic in our planning and scheduling. Our new building will match our goal to be on the cutting edge of providing a great education to all of our students."
With over 10 departments moving in, being under one roof will increase opportunities for the initiatives of the district.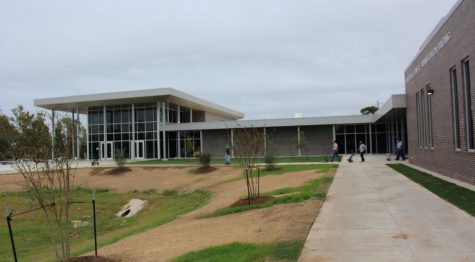 "The different departments represented in the new building are: Superintendent's Office, Innovation, Teaching & Learning, Business & Finance, Human Resources, Student Services, Special Programs, Support Services, Technology, Assessment, Security and Communications," Executive Director of Student Services Tim Walsh, Ed.D. said. "One of the keys to building a great organization is good communication. This new setup will increase the opportunity for relevant discussions involving district initiatives. This district is constantly striving to address the needs of our community today while preparing the next generation for what lies ahead."
After planning the location, the architecture and layout of the new administration building, the final part was to let the special person know that the building was to be named after her. 
"On May 28, 2019 at a special board meeting, the Willis ISD Board of Trustees voted unanimously to name the new administration building: the Sharon Hill Jennette Administration Building," Administrative Assistant to the Superintendent Carol Rodgers said. "This was the last board meeting Mrs. Jennette attended."
The honor was a surprise to the long-time Wildkat.
"She was completely shocked," Fails said "Everybody she spoke to said she made them feel like the most important person. To be able to name a building off of someone and know that you're doing it before they pass away that ending in itself is significant because a lot of times you wait for someone to pass. "
Jeanette was interview by Fails days before her retirement.
"What a privilege and honor to have served my community and school district for these 49 years," Jennette said to Fails in 2019.  "To have even a small part in the education of our children is exciting because they are our future. I have seen so many changes in education and am amazed at the education provided to Willis ISD students today.  I have worked with so many great people and made great friends.  I was able to see first-hand such strong leaders who brought the District to where it is now. I am excited as I enter into retirement.  I will always treasure being part of one of the greatest school districts. Always a Wildkat!"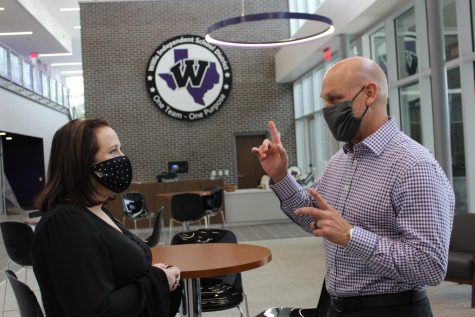 The Sharon Hill Jennette Administration Building will forever and always reflect the district growth and integrity. The legacy of her will live on through the district. 
"I know Sharon would be bursting with excitement, gleaming with pride and so happy for this wonderful addition to Willis ISD facilities," Rodgers said. "The Sharon Hill Jennette Administration Building is so monumental to the district and inspirational because it reflects the growth and integrity of the Willis community. For me, Sharon's legacy of loyalty, dedication and love for Willis ISD students, parents and co-workers will forever echo thru the halls and offices of the building that bears her name."
Leave a Comment
Donate to The Voice of the Wildkats
Your donation will support the student journalists of Willis High School. Your contribution will allow us to purchase equipment and cover our annual website hosting costs.
About the Contributor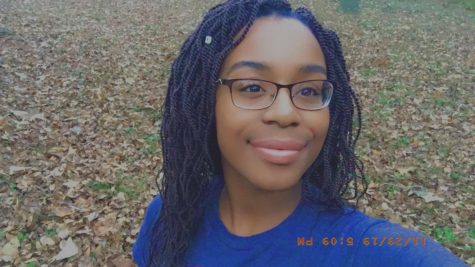 Charnell Haywood, VOW co-editor
Charnell Haywood is a senior in high school. She loves talking with all people. She likes watching sunrises and sunsets. She loves Marvel Movies. She is...