Library renovations plan to bring life to heart of school
Work has begun to make the library a more inviting space
The school recently began a project to renovate the library in order to make it more welcoming and inviting to students. 
Right now, the library is full of computers and heavy outdated furniture. One student recognized this. Though the library is large in size, it was lacking in spirit.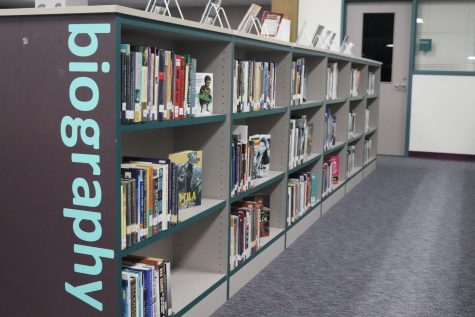 "I always looked forward to having a big high school library," junior Julian Roscom said. "They are just these really cool places that are the main focus of the school. I realized that the library takes up one half of the first floor, yet no one knows that it is there."
Roscom approached principal Stephanie Hodgins about changes that could be made to improve the look and feel of the space. 
"Julian Roscom came to me one day at lunch asking if we could remove the computer lab tables from the library and replace them with more comfortable seating," Hodgins said. "Ultimately, his idea was to revitalize our library and make it more student-centered, almost like what you would expect to see at a university."
Last year, Chromebooks were given to all of the students, reducing the need for desktop computers in the school. Now, there are rows upon rows of computers in the middle of the space. 
"I saw the computers and realized that we all have chromebooks and that the space could be utilized a lot more efficiently," Roscom said. "I wanted better furniture to make it a more open space and more welcoming. I wanted to remove the computers and make the space more approachable." 
New furniture is one phase of this project meant to make the library more welcoming and inviting to students. 
"The building was built in 1995," Shawn Lane said. "All of the furniture is original and out of date. We are trying to repurpose what we have because we don't just want it to be thrown out. The computers are actually going to be moved up to another testing room, so they will all still be used."
With the help of English teacher Ross Gragert, the ideas brought by a student have become reality. 
"Mr. Gragert is actually doing his library internship for his masters degree right now, so he is not only a senior English teacher, he is our library intern," Lane said.  "He and I started working together on it, and our first move is to remove all the old furniture and all of the computers so that it is no longer a computer lab."
Although most of the computers will be removed, four of them will be kept for a printing station, and all of the extra space will be used to implement more comfortable seating and a relaxed environment.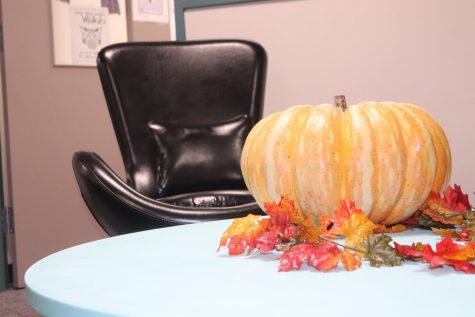 "When you walk into the library, we will have seating at the front kind of like we do now, but then the area where the computers were, we will have big comfy chairs and ottomans," Lane said.
In addition to a more comfortable environment, the library will also be transformed into a place where group collaboration is possible.
 "We are going to make the hidden cubbies in the back collaborative areas with two big black dry erase boards to where if groups wanted to collaborate on a project, they could come back and sit," Lane said. "They've got a dry erase board where they can brainstorm."
Next year, the plan is to implement a coffee bar in the library to attract students and make it feel more like home. 
"Eventually we are going to turn a part of the library into a coffee bar," Ross Gragert said. "We will have the tall bistro tables and the tall chairs, just something to make it a little more inviting and hopefully we will get more people to spend more time in the library."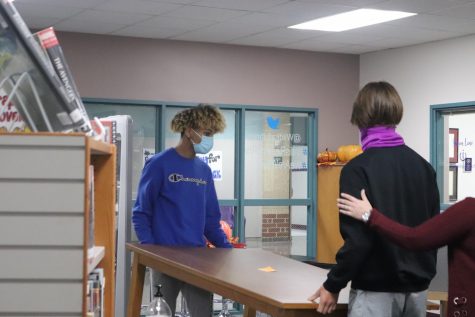 The funds for this project will come from various sources such as coffee sales, grants and the district. 
"The district will pay for supplies like paint and other things, but we're hoping to fund the rest of it through our activity fund and through grants," Lane said. "Once we put in the coffee bar, the money made from it will continue to upgrade and add things to the library."
A library is the focal point and center of a school. In the past, it was a place to rummage through books for a research paper or find a quiet place to work, but it is now evolving with the current generation of students.
"It was mostly just an extension of the classroom, there were computers, lots of tables, lots of chairs to where it was just an extra place to work," Gragert said. "We don't want you to just use the library to do your work. We want you to rest and have fun."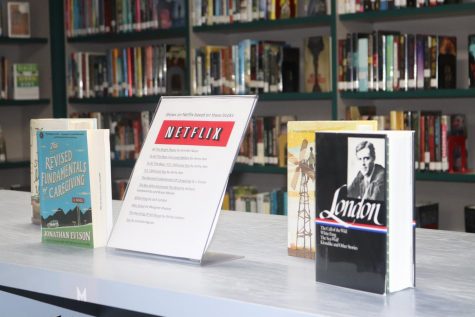 With less computers, new seating and a coffee bar, the school hopes to make the library a more approachable environment where students can reach their full potential. 
"The goal is to create a more inviting space that encourages students to read, have academic conversations, and learn from one another," Hodgins said. "WHS students have limitless potential. I want to give every student an avenue to explore that potential and grow into productive citizens that make our community even stronger."
Leave a Comment
Donate to The Voice of the Wildkats
Your donation will support the student journalists of Willis High School. Your contribution will allow us to purchase equipment and cover our annual website hosting costs.
About the Contributor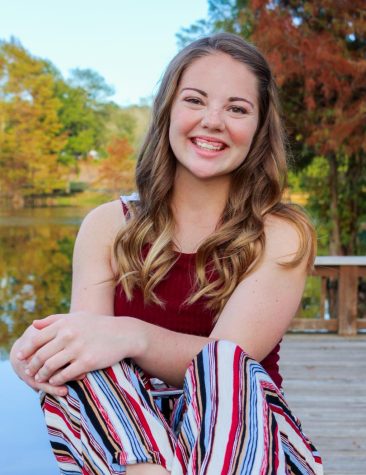 Heather Jackson, VOW photography manager
Heather is a senior on the school's varsity tennis team. Last Spring, she became a State Champion in Journalism UIL for News Writing in 6A. She made...