Journalism team prepares for UIL contests with virtual meet
The University Interscholastic League (UIL) hosts competitions for high school students throughout the year. Generally, schools will meet up at one meeting place – usually another school – and they will host the competition there. The students will go to assigned rooms and compete in an array of timed competitions from math to journalism. It may not sound like fun to everyone, but for the members of the UIL team, it is a big part of the high school experience. 
Because of COVID-19, these in person competitions have been reduced to online only entries. Now, instead of students going and competing, they have to do it remotely and submit their entries online. This appears to be a bummer, but students across the state are making it work.
For journalism UIL, the prompt with quotes is given, and the student has to write a full feature, editorial or news story with the time allotted. 
"I chose to compete because it is my favorite thing to do," junior Katherine Lee said. "It's a lot of fun to challenge yourself to write a story in a short amount of time."
Placing first can be surreal. 
"When I was told I placed first, I honestly did not believe it," junior Heather Jackson said. "I participated in many UIL meets last year and never got first place, although I came very close a few times. So placing first not once, but twice in the same meet was a really big deal for me. I kept checking to make sure I actually placed first, and that it was not a mistake."
Many events that give students the opportunity to earn points for All-State journalism have been cancelling left and right.
"It has been tough since some of our favorite events like Ren Fest have been cancelled," journalism adviser Emily Meachen said. "That was a great way to start collecting points for All-State. Anytime I can get my students writing outside of class, it is a good idea."
Online meets are easier for more people to enter because they do not have to travel somewhere else to compete, but it is not the same experience as participating in in-person events.
"What I miss the most about in person UIL meets is getting to hangout all together before and after we go into the room," Lee said. "We are all a little nervous, and getting to chill out with each other and with other schools is a lot of fun and gets our spirits high before we go into competition."
UIL meets are not only a fun experience but are also a gateway to many educational opportunities and incentives.
"I was happy because I have worked so hard to try and improve my writing for this specific purpose," Jackson said. "I knew that placing first would give me the points I needed to help me make progress on my way to All-State journalism staff this year."
This is just the beginning of competition season, and there will be bigger and better schools to compete against. 
"I am proud of the kids who entered," Meachen said. "They had to do it on their own time. I am really excited about our editorials. We competed against schools who are known for the journalism teams. I am ready for another competition, so my students can show off their skills again. I have such an amazing group of writers."
Sometimes people compete in journalism UIL for the practice, not to place, but the results can be surprising. 
"I competed because I knew the practice is good for me and by participating, I get points towards the All-State journalism staff, which is my ultimate goal," Jackson said. "To make the staff you need fifty points, and this meet definitely gave me a good start on earning them."
This odd UIL meet was the first for some students.
"I have never participated in any UIL event, so this was pretty interesting to compete in," sophomore GinElla Mire said. "I will definitely continue to compete in journalism UIL."
UIL online is not as fun and exciting as in person UIL.
"I really miss the whole UIL experience," Jackson said. "I miss traveling early in the morning with the UIL members to the meet, the sound of everyone in the room rapidly typing to try and finish their stories before time runs out, waiting anxiously for the results to be posted and the friends and memories made along the way."
Results of Center UIL meet
News writing – Heather Jackson, 1st.
Feature writing – Heather Jackson, 6th.
Copy Editing – Sure Ibukun, 4th; Heather Jackson, 6th.
Editorial Writing – Heather Jackson, 1st; Summer Rains, 2nd; 3rd Sure Ibukun; 4th Timothy Gunn.
Leave a Comment
Donate to The Voice of the Wildkats
Your donation will support the student journalists of Willis High School. Your contribution will allow us to purchase equipment and cover our annual website hosting costs.
About the Contributor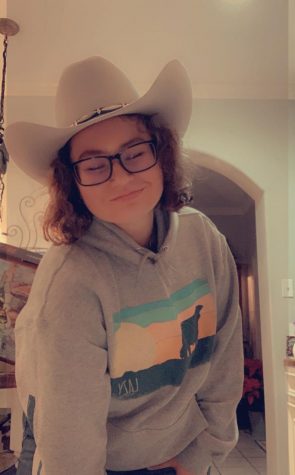 Carlie Rutledge, VOW co-editor
Carlie is a senior, plays varsity tennis and is historian for National Honor Society.  She hopes to go to the University of North Texas to major in photojournalism....