Brown leads all district honors with Utility Player of the Year title
Let's stand up for our players who went out on that field every Friday night. Let's stand up for every touchdown they made, every successful pass and everytime the got that first down. l. Let's stand up for this year players still playing the game that they loved despite the conditions. Let's stand up because we're proud to have watched our boys play. It's an honor to be on the side of the Wildkats.
For their first season as a 6-A team, many Wildkats were honored with all district accolades. 
Utility Player of the Year for the district was junior Jadarius Brown. 
"The season was most memorable because of how hard we fought week in and week out," Brown said. "From my experience, I learned I can never stop fighting, no matter how bad it looks. I would tell my team and coaches that we are forever a family that can't break apart. Now let's get ready for 21-22."
Head coach Michael Wall sees the leadership potential in Brown. 
"Jadarius has been a great player and a great leader for us for the past 3 years," Wall said. "With this mind, our first year in 13-6A, when I asked if we could add a 'Utility player of the year' award the coaches thought it was a good idea. Then a coach in our district says 'your #7 comes to mind' so it just seemed like we were all on the same page."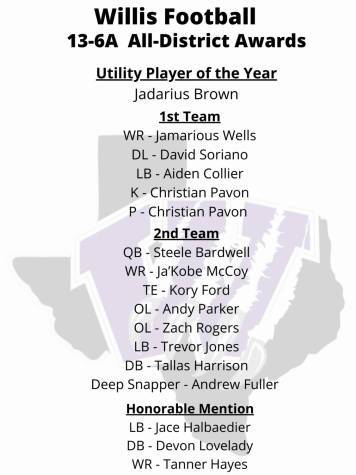 Players are excited to represent their team and  appreciate their coaches for their success. It was a learning experience that allowed for growth. 
"This year was a great learning experience that I'm looking forward to building on next year," junior Aiden Collier said. "I'm honored to be a first team all district linebacker, and I am excited to represent my school on the district level. I owe my success to my coaches. I was asked to trust them and to buy into their program, and when I did I was successful."
The honor serves as motivation for some players. 
"It feels good to be recognized for all of the hard work and dedication that it took to get to this level for two years in a row," junior Zach Rogers said. "Going forward, I will continue to work harder than last year and hopefully make first team all-district next year."
Learning from the challenges, while building bonds with teammates, created something much more bigger and memorable for the team.
"It was tough with us going against some of the toughest teams and starting off with some tough losses, but we fixed our flaws, paid more attention, and eventually gave us the edge in games," junior David Soriano said. "I'm just glad I got to play beside my brothers. The title doesn't mean as much to me than the bonds I've made and the challenges we've overcome."

Coach Wall is proud of the teams hard work and character displayed each week. 
"Our kids have brought in all year and battled the challenges from COVID to the hardest schedule in the state very well," Wall said. "We have a long way to go in our program, but I am proud of this team for what they have accomplished and for the young men that they have become."