No secret to senior success: honored students give tips for making to top
It is easy to find the top students in the senior class. They are the ones sporting brand new purple and white letter jackets. Earning the jacket takes more than making a few As and taking AP and DC classes. It takes dedication, commitment and perseverance. Students put forth a lot of time and effort into becoming the best of the best in order to reap the rewards and meet the goals they have set for themselves. 
The top seniors have worked hard for four years and they have collected a few tricks to make the grades and keep their top 10 status during high school. 
"I think one of the secrets to making the top 10 is working hard your freshman year to get that GPA boost and all 100s," senior Sure Ibukun said. "The classes are easy, but a lot of people slack off their freshman year, so use that to your advantage."
There really is no substitute for hard work. Every class, every grade, every year all add up when the GPAs are compared.
"You have to make straight A's all four years and it helps to make it into the top ten as a freshman," senior Maci Konen said. "It's hard to bounce back from low grades in your freshman and sophomore year so don't be like everyone else and take it easy. It takes hard work every step of the way."
Becoming a student in the top 10 takes time and commitment towards studies. 
"The secret to making it to the top 10 is finding time to focus on school, even when you're super busy," senior Tyler Heffernan said. 
In high school, many people can go down the wrong path and be swayed in the wrong direction. 
"Work hard from day one and do not let bad influences distract you," senior Marissa Fletcher said. 
Failure is what most people are afraid of, but a small failure does not define who someone is. 
"Don't focus for too long on your failures," senior Jennifer Garcia said. "Make sure you learn from them and move on to whatever is coming next. One small failure won't finish you, but letting yourself make multiple will."
Sometimes in order to succeed, students will have to choose whether they go out on a Friday night or stay in and focus on academics. 
"I think the secret to making it to the top 10 is hard work and sacrifice," senior Taylor Jones said. "Sometimes, I have to choose between social events and my homework and studying. I try to always put my academics first because it is important to me. I think the hard work pays off, especially because it takes away stress to be secure in my grades."
Some might claim there are secrets behind getting into the top 10 in class, but others believe it's just putting in the effort that will get them there. 
"There is no secret to making it into the top 10," senior GianReo Mire said. "It requires diligent work and perseverance through long semesters, one after another."
School is all about balancing work and fun, and finding little moments in between to live life and let everything out.
"Don't let yourself burn out," Garcia said.  "Take a break and cry when you need to. Frustration and panic won't help you finish anything quicker. If you have truly done everything you can to set yourself up for success, everything will find its own way of working out."
Being in top 10 is not easy, especially when learning was not in person.
"Online math classes during quarantine, especially DC pre-cal, were very difficult for me without a face to face teacher," Heffernan said. 
Students can still have fun and be one of the top 10, they just need to make sure they focus when needed. 
"You need to find a balance between your academics and social life and learn to adapt as the years go by," Ibukun said. "Make sure you work hard and do not slack off."
A student must have a system of organization in order to succeed in anything in life, especially work and studies. 
"The best advice I can give to students is to be relatively organized and that does not always mean color-coding and writing aesthetically pleasing notes," senior Terri Ray said. "It could mean sticking your homework in your back pocket without fail when it is assigned- only you have to understand your system."
Taking advanced academic courses can be nerve racking, 
"Mr. Robinson's AP World History class was definitely a challenge mostly because it was my first AP class, and I was still learning how to manage the work given to us," Fletcher said. 
Advanced academic courses are very rigorous and can be intimidating at times, but after a student settles in they will be just fine. 
"I feel like a lot of people will say Robinson's is the most challenging, which is AP World History," Ibukun said. "But that class was more of a mental challenge, and once I got over that fear of being in an AP class, I was fine. I would say that AP Physics and AP Statistics are the most challenging classes I've had so far."
Learning the test answers will get students only so far. 
"My advice is to work hard, don't burn out, and to attempt to grasp entire concepts, not just test material," Mire said.
Some classes in high school are only required for a year or two, and students who push themselves to take those extra classes and succeed in them do struggle from time to time, but will persevere and triumph. 
"AP Spanish 4 is the hardest class I have taken, because it takes confidence to speak another language aloud, especially when mistakes are common," Jones said. "Speaking another language is challenging, and it takes constant effort to remember everything.
To have that group of people who will be there for anything and everything gets students far in academics. 
"Don't get discouraged and find a group of friends who will support you," Heffernan said.
In order to go far, academics should come before all else and should be a priority. 
"I would tell students to take responsibility for their work," Jones said. "It is hard to be dependent on others. I always tried to make sure I had a solid grasp of all the content I have learned, and if I didn't, I would ask for help. I also put academics first, despite social plans that my friends were making. I also suggest that people take as many advanced classes as they can, including AP World History."
Being a top 10 student is no different than any other student, they just push themselves a lot harder than most. 
"I genuinely think the secret to making it to the top 10 is being self-motivated and consistent," Ray said. "I cannot speak for all of us, but I think most of us could be described as fairly average teenagers with a natural urge to perform to the best of our abilities in all aspects of life."
Leave a Comment
Donate to The Voice of the Wildkats
Your donation will support the student journalists of Willis High School. Your contribution will allow us to purchase equipment and cover our annual website hosting costs.
About the Contributor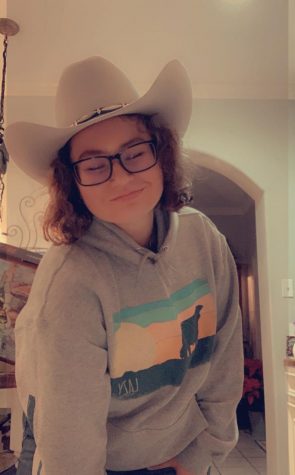 Carlie Rutledge, VOW co-editor
Carlie is a senior, plays varsity tennis and is historian for National Honor Society.  She hopes to go to the University of North Texas to major in photojournalism....