Much more than pretty faces: Caring Queens focus on charity, improving communities
Organization helps boost confidence of underprivileged girls with beauty pageant experience
Girls drape themselves in ball gowns, spend their last few minutes rehearsing talents and take one last look in the mirror to prove they are ready. This is the typical beauty pageant scene, but the audience and judges do not see what the girls really do to give back to their communities. Judges don't see the service and charity they do away from the glamorous pageant stage. 
The Caring Queens foundation, made up of past and present pageant queens, hosted a beauty pageant for the foster girls residing in The Treehouse Center in Conroe on Feb. 7 at the North Montgomery Community Center in Willis. The foundation and pageant were headed by the Caring Queens director, Celia Smith after she saw a story on Facebook about The Treehouse Center looking for clothing donations. 
"I wanted to give young girls who have experienced terrible things in their lives an opportunity to feel beautiful and celebrated," Smith said. "I wanted to treat them like the queens I know every girl should be treated as. I posted on my personal Facebook the idea of hosting a pageant for the girls. I had immediate responses and an outpouring of love and generosity."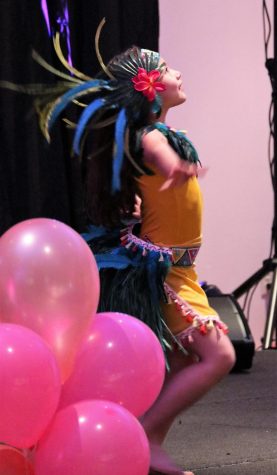 Pageants are not all glitter and ball gowns. The girls who participate in them learn a variety of lessons and skills along their journey in the pageant world. 
"I see the positive impact pageants have had in my own life and my 6 year old daughter's life," Smith said. "Preparations for pageants and being on stage in front of an audience and judges has taught her self-discipline, boosted her self-esteem and confidence, and it has given her a forum for public speaking. But most of all, pageants have taught her kindness, camaraderie, sisterhood and the responsibility of community service." 
Due to COVID-19, there were various obstacles the foundation came across when organizing the event. One of them was finding a suitable venue. After trial and error, the organization was given permission to use the North Montgomery Community Center with the assistance of Precinct 1 County Commissioner Robert Walker.
"I called and asked if they would allow a non-profit to host an event there," Smith said. "When she called me back, she told me she shared our story with Precinct Commissioner Walker, and they loved the idea of helping these young girls."
After all of the preparations had been made, the director and her daughter paid a visit to their future pageant queens. 
"Lilliana and I went to The Treehouse Center and introduced the idea of the pageant to the girls," Smith said. "They were all very excited and wanted to do it. We purposefully made it a non-competitive event so that each girl would receive a crown, sash and goodie bag." 
Adult volunteers and members of the Caring Queens foundation made the event possible. Many of those who participated gave talent performances for The Treehouse Center girls. One of these girls was Chelsea Hinson, an eighth-grader at Brookside Intermediate who performed a piece from Pirates of the Caribbean on her viola. 
"I really enjoy doing stuff like this especially because 2020 and 2021 are so crazy for a lot of people, and I just love being that one person who can help out, make a difference and make a person's day a lot better," Hinson said. 
Hero by Mariah Carey was sung by Arianna Stephens, another pageant queen and freshman at Northshore High School. She put thought into the song she would be performing for the foster girls in hopes that it would give them courage and strength. 
"I originally wanted to sing it because it's Black History Month, and I thought it was a good song choice for the girls here today," Stephens said. "I like performing for the people, and I've never sung in a public environment before. I wanted to do it for the girls."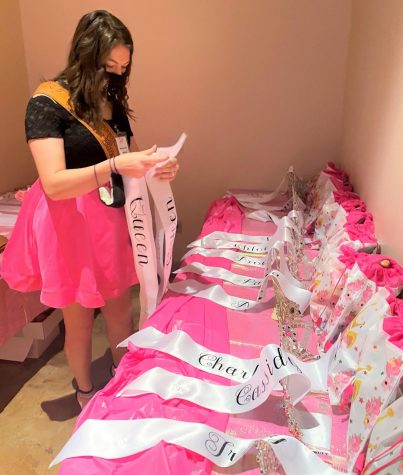 Willis High School's very own first runner-up for Montgomery County Fair Queen was one of the Caring Queens' volunteers. 
"I am helping with crowning and setting up," senior Makinzie Noska said. "I wanted to participate so I could help girls and give back to a good cause."
Noska's mother, Jennifer Noska was also in attendance. Noska's mother was skeptical about pageantry until she learned about the service aspect of the programs. 
"All of the ones I allow them to do are about service and giving back to the community, and that's what I want them to learn," Jennifer Noska said. "When I realized it was more than what you see on television, then I was on board to do it. Once they got excited to start getting involved and doing service, that's when I allowed them to participate in pageants." 
The event affected the volunteers as well as The Treehouse Center girls, and some shared their experiences online. 
"The day after the pageant, I saw numerous posts on social media from the volunteers on how the event was life-changing for them," Smith said. "We all had a part of creating an experience for these young girls that they will never forget. I was overwhelmed with tears of gratefulness for all that contributed to this event." 
After the girls were crowned, the event was not completely over. The director still had an extra surprise up her sleeve for the foster girls. 
"The week after the pageant, I returned to The Treehouse Center and gave each girl their own copy of the program booklet and all of their own pictures from the pageant," Smith said. "It also included cards that the audience filled out for each girl with words of support and well wishes." 
This event was the first of many to come. It has been decided that The Caring Queens will put on a pageant for The Treehouse Center annually with the help of volunteers and pageant queens. 
"I initially thought The Treehouse Pageant would be a one-time event," Smith said. "After receiving donations from all over the U.S. and seeing the willingness of many volunteers to help, I realized we could do more. My husband, Tim Smith, was very supportive of this idea and encouraged me to create an organization to foster this. I wanted to create an organization of pageant queens from all over, any age, and any pageant system to empower underprivileged girls through pageantry." 
Beauty pageants have more to them than what meets the eye, and The Caring Queens foundation was just one example. One of the goals for this pageant was to give underprivileged girls strength and confidence. Emma Givens, a fifth-grader in Fulshear Texas, was one of the pageant queens who volunteered for this purpose. 
"I came to this event so I could help out girls that need more confidence or don't have any," Givens said. "My one piece of advice to these girls would be to be yourself because there's too much of everyone else, and if you're blending in, then no one's going to know the real you." 
View Comments (1)
Donate to The Voice of the Wildkats
Your donation will support the student journalists of Willis High School. Your contribution will allow us to purchase equipment and cover our annual website hosting costs.
About the Contributor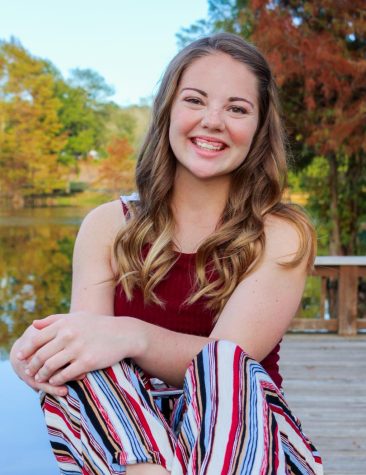 Heather Jackson, VOW photography manager
Heather is a senior on the school's varsity tennis team. Last Spring, she became a State Champion in Journalism UIL for News Writing in 6A. She made...