Seniors recognized for making difference
2021 Who's who worthy of attention
Remarkable.
A word that describes each and every student that made this years list Who's Who for 2021. It means these Wildkats are worthy of attention, are the most involved or the ones that stand out in a supportive way in a classroom environment.  But this only scratches the surface of what these students are truly capable of.
Every year the high school staff nominates and then selects the Wildkats most likely to lead the pack, and this year's selection is full of remarkable students. Every student brings a different aspect to the table and are all involved in school activities and student organizations. Each one looking forward to the future and wishing the best for themselves and their classmates.
Senior Dawson Asher who is part of the Bowling Team and Band Member is also involved in Practicum of Education as well as FCCLA. 
"My goal is to promote kindness and greatness through performing random acts of kindness and trying to be a role model," Asher said. "Always try to be welcoming around others, be positive and friendly and create a positive atmosphere. Keep looking up that's the secret to life."
A senior athlete both in football and baseball, Steele Bardwell was also honored as a Who's Who. 
"By playing sports to represent our school in positive ways, and being involved in many teams clubs and groups to help spread positive influence to everyone around me," Bardwell said. "To make school a place where everyone is together and comes all in as one family.
Senior Olivia Bell is a JROTC member who helped change the idea of JROTC and inspired others to join the JROTC program. 
"A lot of people (myself included) are afraid of asking questions if they need help, in order to become a leader you must learn and ask questions," Bell said. "I try to make Willis a better place by showing others around me that being in the minority does not mean I am not important. To show others around me that it is okay to ask for help if you need it. In all four years of my high school career, I have helped the Willis JROTC program grow. I started teams within the program and pushed for others to join. I wanted to change the idea of JROTC, have people be comfortable and wanting to join and I think I am being successful. I am not doing this alone, it starts with one, but the ripple is larger."
Who's who honoree senior Emilee Buhl is also an athlete involved in football and wrestling.
"My goal is to encourage others to follow their dreams by encouraging school spirit and always doing school activities," Buhl said. "Believe in yourself and you will be unstoppable"
An active student council member who involved in volleyball, senior Bella Cantara has worked to improve the school culture. 
"My goal as a leader of the school is to have the kids that go to our school want to be there," Cantara said. "Having kids want to come to school is something that makes everyone happy and always lightens the mood. I have tried many different things to make the school a better place. Somethings I did was always make sure that the school has a clean environment around us and to keep the school grounds clean. Me being in student council really helped me be involved in my school. I helped with making the signs big and colorful to make sure students knew about everything going on. I got the students and staff involved in dress up days and making sure they are fun and silly dress up days. Every holiday we would have something big and exciting to get us ready for the holidays." 
Senior Cameron Collier is involved on the WHS Wrestling Team and serves as the captain this year. 
"My goal is to show my peers what it takes to be a hard-working individual without tearing others down," Collier said. "I do everything I can to contribute to the learning environment by adding a level of focused enthusiasm. If I see something different about someone, or something interesting about them, I'll complement them on it. The WHS environment is extremely lacking in  general compassion and respect for students and faculty an individual may not know, so, by exposing those around me to the attitude I hope will fill the WHS hallways, I try to cast a light on the potential atmosphere that could fill the school."
On the sidelines on Friday nights to her work in clubs, senior Lindsay Davenport is leader many places around school She is a part of both the student council and National Honor Society, as well as cheer and Justice League.
"My goal as a leader is to always spread positivity and kindness," Davenport said. "Loving others has always been something that has been huge in my life. There are so many kids that don't get to experience that outside of school, so being sure they experience it in school has always been a goal of mine. Since freshman year, I've tried to make WHS a better place by just being involved. Being involved is so important in high school. There are so many amazing ideas that people have on campus, but just not enough hands to fulfill them." 
Senior Shemaiah Eldridge is a member of the girls' basketball team who was also honored. 
"I try to make WHS a better place by being kind to everybody and spreading positivity," Eldridge said. "My goal as a leader is to make school a place when people can be comfortable being themselves. I don't want anybody to feel like they don't belong or they don't fit in.There's enough room for everybody here :)."
Senior Tyler Heffernan is part of the student council and National Honor Society. 
"I try to make WHS a better place by leading and participating in organizations that made a positive impact not only in our school, but also in our community," Heffernan said. "My goal as a leader of the school was to inspire positive change in our school as it continues to grow.
Senior Sure Ibukun is in track and cross country as well as involved in math and journalism UIL. She is also ofthe Class Treasurer, a member of the National Honor Society, the Student Council and an editor of the Yearbook staff. 
"I honestly just want to make people happy," Ibukun  said. "I love being there for others and helping them to reach their potential. I contributed ideas for school events and functions. Being able to brainstorm ideas on how to reach out to the student body and unify each other as a community was really cool. I also tried to spread positivity and encourage others."
Senior Kayla Lyons is in the student council and on varsity cheer.
"My goal as a leader of the school is to be an encouraging friend and classmate and to set the example for the underclassmen," Lyons said. "I tried my best to always have a smile on my face and be a friend to anyone who needed one."
Drum major senior GianReo Mire is part of the band, National Honor Society and Spanish National Honor Society.
"I make Willis High School a better place by giving my 100% effort towards everything I can control during the school day including my attitude, my opinions of others, and how I react to everyday problems and interactions," Mire said. "I make it my duty to come to school everyday and help one person become a better musician than they were the previous day. I aim to bring hope and positive results into the lives of those around me especially in the uncertain time we are living in. By doing so I am able to leave a positive influence on every person I interact with."
Senior Vicki Moseley is involved in the WHS Band, theater and the One Act Play UIL. 
"Make every day a good day, no matter the circumstances," Moseley said. "I always tried to lead by example, get good grades, have fun, and make people laugh and feel comfortable in a new environment."
Senior Skyler Murillo is another wrestler who was honored.
"I try to make WHS a better place by helping others when they are down/ need help with anything physically or education," Murillo said. "My goal as a leader is to always be in a good mood because it puts people in a better mood and it is a great feeling knowing you can change someone's day just with a smile."
All state choir honoree senior Julianna Needham is a senior athlete in cross country and involved in both varsity choir and the school's musical. She is also part of the SYNK, stuff you need to know club, and Robotics.
"As a leader, I just want to inspire others to be better than they think they can be but I wouldn't necessarily call myself a leader, because the most inspiring thing is that I'm just like everyone else," Needham said. "I enjoy trying to better myself, and knowing that I started the same place that everyone else did, makes me proud of myself and my accomplishments. Participating in all of these clubs allow me to reach farther clicks and inspire them to try new things. The reason that I join so many clubs are for the sole purpose of having the opportunity to make new relationships and find things to inspire myself and hopefully find my calling, and I try to show others how to better themselves through opportunity."
Senior Aubrey Russell is part of cheer and Justice League.
"I try to be involved as much as I can and include everyone," Russell said. "I really try to not fit the mold of the high school stereotypes, and I always want to be a friend that everyone can turn to. I always try to include everyone and make the most out of these short four years we have here. I'm probably not someone that everyone knows when they hear my name but I'm fine with that because I want to be the person who isn't widely known but has made the biggest impact."
Senior Carlie Rutledge is part of the Student Council, National Honor Society and the tennis team. She is also a part of the Yearbook and Newspaper staff. 
"My goal as a leader of the school is to make sure everyone feels like they belong," Rutledge said. "I know sometimes it can feel like you're alone in the world, so I just want everyone to feel like they aren't alone. I try to make WHS a better place by making sure everyone feels included in clubs and projects. It is easy to be left out of a club activity or project, and I try to include everyone the best I can."
Senior Josh Thomas is a senior athlete in both Football and Wrestling.
"There are two things I do very often in WHS to make it a better place," Thomas said. "First off I always help those in need. I do this in the classroom especially when my classmates need help on school work. The other one is I try to be kind to everyone in WHS. I believe that with just a little bit of kindness everyday we can make WHS an amazing school.
Leave a Comment
Donate to The Voice of the Wildkats
Your donation will support the student journalists of Willis High School. Your contribution will allow us to purchase equipment and cover our annual website hosting costs.
About the Writer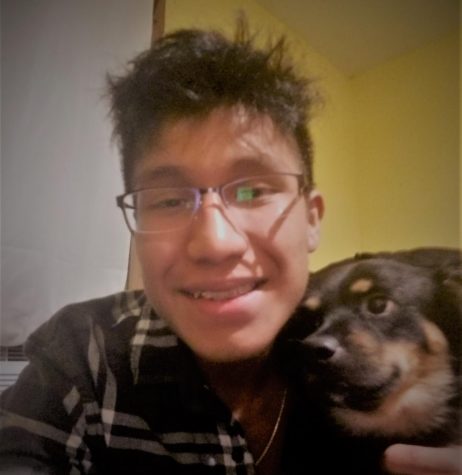 Jesus Santana, VOW staff
Jesus is a senior at Willis High School. This is his first year being part of both the yearbook & newspaper staff, and he is very excited to be writing...