Softball team rises up to help teammate through difficult time
Sophomore receives brain surgery for her AVM diagnosis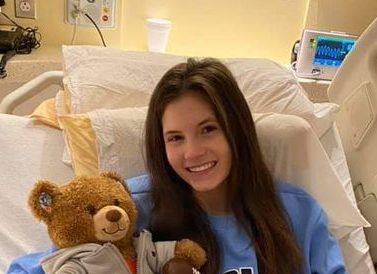 It started off as a normal day in second period English for sophomore Mazlyn Heyer, but by the end of the day, her life would be changed forever. She was doing group work when she started to get a severe headache and asked her teacher to close the blinds. Then when she put her head down, the right side of her body went numb. About ten minutes later, her dad came and picked her up and they headed to the E.R. After around five hours of scans and tests, the doctors transported Heyer to Houston where they found a bundle of blood vessels, twisted in her brain.
Heyer's surgery is today and will take 20 hours to operate. Saturday, March 6 the Varsity Softball team will be selling pulled pork sandwiches, drinks and water for $10 from 9:30am- 2:00pm . All funds will go directly to Heyer's family to help with the medical cost. A GoFundMe is also in place to donate money to her. 
After her surgery, Heyer has a long road ahead of her to get back, and that includes taking time off of school and sports.
"The recovery for the surgery isn't easy," Heyer said. "I will have many obstacles to face including physical therapy and many more doctors appointments in my future. The recovery time is about a month but unfortunately sports will be on hold for about four months. This time frame for recovery isn't certain but it's what we are hoping for." 
Even though she will not be participating in the softball games, Heyer is still very much a part of the team and is working hard to help her teammates in any way possible.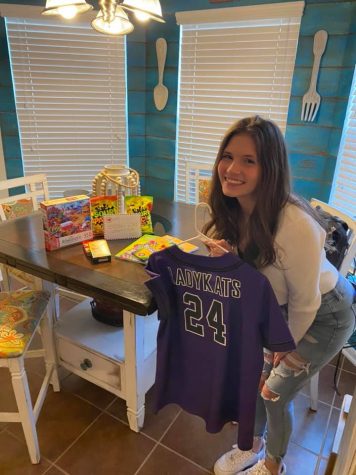 "Mazzy, she is one of the sweetest kids I know," softball coach Lyndsey Lipscomb said. "In a very scary time for her and her family, she has remained calm and upbeat. Since she was diagnosed and has not been able to participate she has been our COVID protocol girl. She makes sure all the water bottles are filled daily for practices and games. She makes sure everyone has hand sanitizer numerous times throughout practices and games. She has been there to cheer on her teammates and help wherever we needed her. She has her #24 jersey and is going to be sporting it while in the hospital and back at home."
Heyer is at the top of her class. She is very dedicated to her schoolwork and she wants to do her best to stay on track during her time off from school. 
"She will be totally fine with her grades while she's away from school, she's got a great average in here," English teacher DeAnna Slovak said. "She's number one and she's sent me an email about what she could do to keep from getting behind, but I told her that I'm just going to keep her average because she has other things to think about and focus on right now. I had this idea that on certain days when there's an important lesson, that I'll record it for her so she won't miss anything."
The medical term for what's happening to Heyer is Arteriovenous Malformation or AVM. It is an abnormal connection of arteries and veins that is usually found in the brain or spine. 
"I need surgery because I was having stroke-like symptoms," Heyer said. "The surgeons have mapped out a way to cut the jumble of blood vessels out and repair what is left in order for me to be able to still live the life I do today." 
Heyer is a pitcher for the Varsity softball team and she is also on the volleyball team. The surgery will set her back a lot from her participation in athletics but even though she won't be able to play, that doesn't mean she won't be supporting her team. 
"Softball has been my life for as long as I can remember," Heyer said. "I miss my team and coaches tremendously already. Although it is tough to take time off the field, I'm always going to be there whenever I can go to watch my team and help out in any way I can."
Coach Lipscomb decided, after her initial discovery of the mass, that the softball girls would be doing something to help her family. 
"I help with the communication with the varsity girls," softball mom Carrie Boyd said. "Lipscomb asked me to put something together and it went from selling sandwiches at the Willis tournament to a GoFundMe account and creating an event on Facebook. We are hoping to raise about $2,400 for her medical expenses at the fundraiser and the GoFundMe will help as well."
Heyer's friends have been there for her every step of their way and are doing their best to help her get through this time and keep her chin up.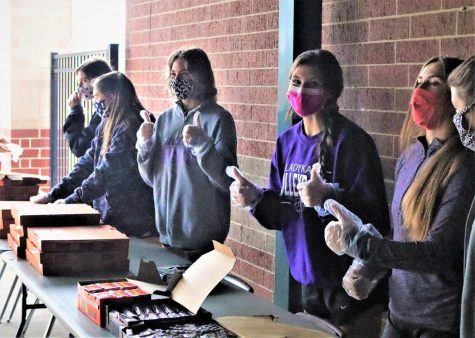 "Lauren, Lindsey, Lainey and Aiden have helped me so much through this whole situation," Heyer said. "Without them, I don't know if I would have the strength to do this. They are always keeping the surgery off my mind by having a new adventure to try and keeping my laughing."
The softball team is doing a lot to support Heyer and they think it's important for the team to give back to a player during her time of need. 
"Yesterday we made her a video telling her that we're going to miss her and we told her good luck on her surgery," Lipscomb said. "We are a big family, each teammate and coach comes from a different background and upbringing, but we were all put here together.  I try to instill in our kids to be great humans all the time to everyone. This is part of being a great teammate and a great human. When one of us is weak, the rest of us have to step up for that teammate. In the world we live in today we do not see enough of being kind or empathetic towards others. This is a time we can teach our kids that softball is important, but the relationships and bonds you have with one another are even more important. Our hashtag this season is #RiseUp. No matter what curve balls life might throw at us, we are going to lean on each other and make the most out of every day on and off the field."
Family and friends are very important to Heyer and she is very grateful of all that they have done to help her through this process. 
"My team, coaches and family have helped me so much through all this and I can't express how thankful I am for them," Heyer said. "The amount of support is overwhelming. I'm especially thankful for coach Shelly and Lipscomb, they have provided so much help and kindness to me and my family as well. They have been such amazing role models and taught me so many lessons that I will continue to carry throughout my life. Being able to still be a part of the team has been so important to me and I can't wait to be back!"
View Comments (2)
Donate to The Voice of the Wildkats
Your donation will support the student journalists of Willis High School. Your contribution will allow us to purchase equipment and cover our annual website hosting costs.
About the Contributor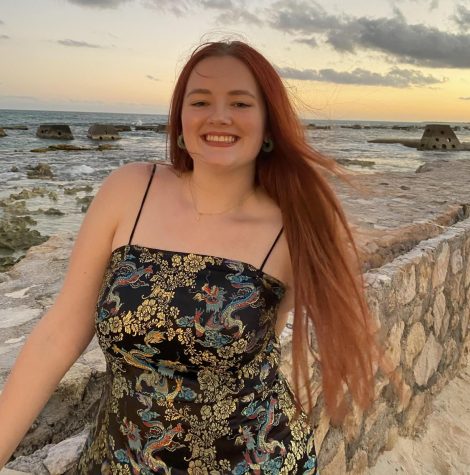 Summer Rains, VOW editor
Summer is a senior, co-editor of the newspaper and entertainment editor. She is also a member of the yearbook staff, four year journalism student and two...