With racing in her blood, junior embraces drag racing community
She straps on her gear and double checks every possible safety measure from the helmet and gloves, to tires and brakes. Engines around her roar and fans scream from the fence. She slips in her seat, straps on the seatbelt and takes a deep breath. Other racers fill the lanes around her; only one will come out on top. The tree starts at yellow, and she darts forward as soon as the green light appears. The drag race has begun. 
Junior Jenna Dempsey is a third generation drag racer and has traveled far and wide to compete against other kids across the country. She is currently sponsored by Renegade Race Fuels as well as Meguiar's Car Care Products. After years of practice and endless weekends of racing, she will soon age out of junior drag racing and the kiddie party will be over as she goes up against adults who have been racing longer than she's been alive.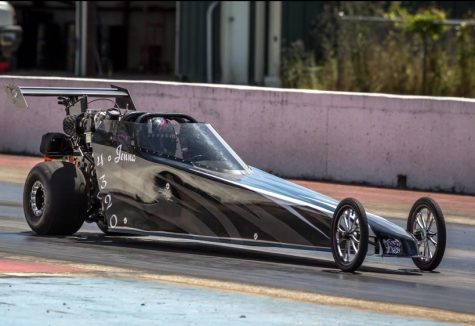 Junior drag racers can begin at a young age, and this was not in existence until more recent years. With this change, adult racers were given the chance to let their kids compete at a younger age than they were previously able to. 
"I have always been at the race track since I was born," Dempsey said. "When I turned eight, they allowed kids to start racing. I was immediately captivated by it, and I wanted to do it." 
Though there are many who participate in junior drag races across the country, it is not a competition that receives much attention from the public.
"People don't really talk about drag racing that much, but it's a really big community especially junior drag racing," Dempsey said. "It takes place all over the United States, and there are even hundreds of thousands of kids that drag race just in this region. It's really fun to be friends with people like that because you're all sharing the same type of love for a hobby."
Dempsey started training at a very young age and has been able to develop her skills through years of practice. 
"I started when I was eight, but I started practicing and getting the hang of being behind the wheel when I was seven, like the whole basics of learning how to turn the car and learning how to turn it on and off- just simple stuff like that," Dempsey said.
She won her first race at eight years old, and was up against a racer who was three years her senior.
"I remember getting down there and my dad had tears in his eyes because he was just so happy for me," Dempsey said. "I didn't really realize what I had done until later. I understand now that it is a pretty big accomplishment, getting that far to win a race. I just remember being happy that that was my first win, and there have been many more since then, but that first one still really sticks with me." 
Drag racing may come with excitement and exhilaration, but the competition also contains potential danger for racers no matter the speed of the car or age of the racers. There are several measures taken to ensure the safety of the racers, set up by the National Hot Rod Association (NHRA) and the International Hot Rod Association (IHRA). 
"The NHRA and the IHRA, both of the organizations that oversee drag racing, do a really good job of making sure that we are safe doing what we love," Dempsey said. "We have to wear a firesuite which includes fire shoes, fire pants and a fire jacket. We also have to wear gloves, a neck brace and arm restraints. Some of us have to wear a head sleeve as an additional fireproof layer, and we wear helmets." 
In addition to the equipment on the actual racer, the car has certain features as well that are required to be kept specific conditions for maximum safety. 
"We have to have special chassis to support the car," Dempsey said. "We all have certain seatbelts that we have to use, and all of this stuff except for the fire suit needs to be replaced routinely. If you buy seatbelts one month, you have to replace them a few years from then. Same thing with helmets, gloves and arm restraints, it's just to make sure the safety equipment is in top tier shape." 
Even though all of these precautions are in place, accidents can still occur. Dempsey has witnessed this firsthand while doing what is called Outlaw Racing. In Outlaw Racing, the cars go significantly faster which poses greater danger, so only experienced drivers can participate. There are greater measures taken in this type of race, but as Dempsey has seen, if even one thing is overlooked, it can end in disaster. 
"So basically, those cars, you have to maintain them a lot more because they have a bigger stronger motor," Dempsey said. "You have to take apart the clutch, service the belt, clean the tires and prep the tires before each run. My friend, Matthew, was doing all of this and when he took the tires off of the car to clean them and put them back on, he didn't tighten the lug nuts up all the way. He had them about halfway tightened up, and when he went on the track next to me, the tire fell off."
Her friend's car slid and began to barrel roll off the track.  
"I was lucky enough to get right enough past him that I didn't even see anything happen," Dempsey said. "He started to barrel roll, and I got to the end of the track," Dempsey said. "My dad thought it was me. He didn't see me go past; he just saw a car in my lane barrel rolling. He got down there with tears in his eyes and he asked if I was okay. He told me that Matthew had rolled on the track. That being said, it was a pretty scary experience for me as well, and he walked away with only a minor concussion."
Despite the posed risk, Dempsey has remained unharmed as she follows all the necessary safety precautions in her time as a racer. The risk does not stop her from practicing and doing what she loves. 
"For the most part, I try to practice pretty often," Dempsey said. "Being off of the track, it is kind of hard to practice. We call it 'getting seat time', it's just getting inside of the car and getting through being on the race track. There is a way that I do practice though." 
Dempsey gets questions about the Christmas tree looking patch on her varsity letterman, but to racers, it is simply a tree. It is what counts down and starts the races each racer strives to win. 
"They have practice trees where you can practice reaction time, so I have one of those, and I practice as much as I can," Dempsey said. "It is kind of hard to work into my schedule because I'm naturally a busy person being in tennis and showing animals and, of course, drag racing too. I try my best to practice as much as I can. I think I get the most practice just being on the race track." 
Dempsey has raced all across Texas as well as neighboring states, and each area has given her the opportunity to see what it's like to race in different environments and see how the car is affected by them. 
"I have definitely seen quite a bit of race tracks, and it is definitely fun to see different environments because the cars depend on the air quality," Dempsey said. "Different barometric pressure and altitude completely throws everything off. You have to take everything into account, humidity, everything. Being in different places and different states, you get to see different things and different weather and how the car reacts to it." 
Dempsey will age out when she turns 18 and will be able to experience a whole new part of her racing world that she can experience with the man who introduced her to her beloved hobby. 
"I'll be 18 or 19 racing grown men that have been doing this for 40 plus years, and it's going to be pretty intense, but I'm ready for it and I'm going to enjoy it," Dempsey said. "I'll get to race my dad's '69 Camaro, and I'll probably travel with him because he races too now. We'll travel and race together because that's one of the things that keep me and my dad really in sync with each other. We always travel and go racing with each other. We'll definitely have a lot of fun with that."
Dempsey has been a part of junior drag racing for years, and will soon face new obstacles, leaving behind her start in becoming a racer. 
"As much as I say that I'm ready to age out, I'm not," Dempsey said. "I'm not ready to get older, and I will never forget the memories that I've made in the process." 
Leave a Comment
Donate to The Voice of the Wildkats
Your donation will support the student journalists of Willis High School. Your contribution will allow us to purchase equipment and cover our annual website hosting costs.
About the Contributor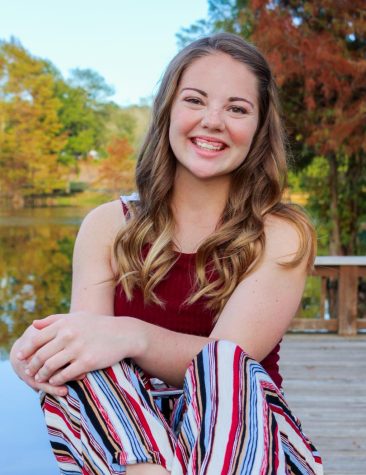 Heather Jackson, VOW photography manager
Heather is a senior on the school's varsity tennis team. Last Spring, she became a State Champion in Journalism UIL for News Writing in 6A. She made...