Tennis player qualifies for regional tournament
LeBlanc finishes 2nd in district
The ball flies through the air, across the court.  She swings her racquet and makes contact with the ball, sending it back over the net with extreme topspin from her backhand.  It soars to the other side and out of reach for the opponent.  There's one point.  The game continues on for what feels like hours, until the last couple of points.  In the last game, when everyone is holding their breath, nervous about how the game could finish, the only one breathing is her.  She runs all over the court, chasing down every last ball until she wins.  All the hard work, sweat, and tears had finally paid off. 
She will be heading to regionals on April 26.  Regionals will take place in Waco, Texas. On Thursday, April 8, the second part of the tennis districts began.  Senior Megan LeBlanc had the chance to advance to regionals, and she took it.  
Many aspects go into preparing for big matches.  
"I prepared by going to extra privates and focusing on certain aspects of my game to improve, as well as working hard in practice," LeBlanc said.
Not only is LeBlanc overjoyed, but so are the people who helped her become the player she is today.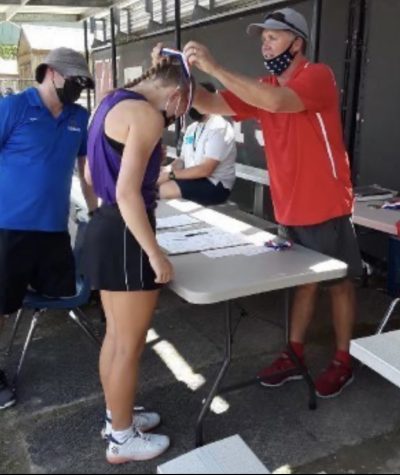 "I am very proud of her because of all the hard work she has put in, and to see her realize success after putting in the time it takes to be a regional qualifier in a tough district," head tennis coach Garry Kemp said.
With college right around the corner, regionals will benefit LeBlanc in pushing her playing abilities.  
"The best part about going to regionals is the fact that I know this experience will prepare me for playing in college and gives me confidence in my playing," LeBlanc said. 
A lot goes into preparing for big matches, and not just practicing.  
"Coach Kemp and I talked with her about preparing for regionals," assistant coach Lisa Parrott said. "Former student and volunteer coach Joel Mendez will be around to hit with her. She also has access to a private coach who will most certainly help her focus and plan. Of course, her teammates will be around to encourage her as well."
Practice makes perfect, that is why practicing is important for regionals.
"I will prepare by working on my serves and backhands to make sure that my game is as solid as it can be," LeBlanc said.
The victory was not just a personal victory for LeBlanc, it was a victory for the entire team.
"It was an extraordinary moment when we watched the end of the 2nd place match and felt the excitement rise and the tension disappear," Parrott said. "Megan came toward us, skipping and waving her arms in celebration with her smiling group of teammates following along."
To finally see someone achieve what many have worked so hard for, it truly is a great moment.
"After seeing Megan fall short of regionals her sophomore year and COVID taking away her junior opportunity, nothing made me happier than seeing her finally achieve what she's worked towards for many years," junior Brenan Mansker said.
LeBlanc's accomplishment is a big significance not only for her but for her team too. She competed against a 6A district for the first time and earned second place.
"Megan's advancement to regional's is absolutely phenomenal and well deserved," junior Macey Conatser said. "Willis should be proud to have her as a star athlete representing the school."
As a head coach, it is always an amazing feeling when one of their players goes far.
"We are excited and proud that she is representing Willis this year at regionals," Kemp said.
Not only are coaches ecstatic for LeBlanc, but so is the team.
"My initial reaction after realizing that she qualified for regionals was one of pride," Mansker said. "Watching her match was exciting due to the circumstances. Willis hasn't had a regional qualifier in many years and it was exciting to watch my own teammate achieve that."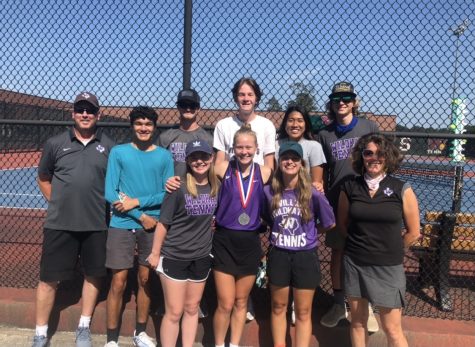 LeBlanc is a leader on and off the court. She is dedicated to the sport and the team. 
"To me, Megan is more than a teammate, she is my friend, so it was a wonderful opportunity to get to watch her play at district and advance to regionals," Conatser said. "She plays with such passion on the court and gives it her all, truly something I inspire to. I, personally, am stoked that she's a regional qualifier, and I know she'll dominate at regionals."
The tennis team will help make sure LeBlanc is ready for regionals by staying by her side and cheering her on. 
"The biggest thing to help Megan prepare for regionals has nothing to do with her playing ability," Mansker said. "She's got that covered. Our job as a team, school, and town, is to throw every ounce of support behind her before her trip to Waco."
Not only did the pandemic affect school, but it also affected sports. 
"I am super excited to go to regionals because I missed out on my opportunity last year because of the pandemic," LeBlanc said. "I am excited to travel to Waco and play new players."