From the Redwood forest to the Gulf Stream waters
Geometry teacher travels to all 50 states
From the flashing lights of the Vegas Strip to the calming ocean breeze of the Florida coast, geometry teacher Jim Korkowski has traveled to every state in America. Six years ago, Korkowski and his wife set the goal to travel to all 50 states before his wife turned 50. 
Over the summer break, the couple completed their goal by traveling to their last state, Alaska. 
Korkowski was born in Minnesota and didn't travel as much when he was young, but when he met his wife, the couple started knocking states off the list. 
"North Dakota was the first state I traveled to," Korkowski said. "We lived in north west Minnesota and it was only a 90 mile drive. After I met my wife we drove back and forth from Texas several times."
After taking multiple trips back and forth from Minnesota to Texas, the Korkowski couple started on their traveling spree. 
"We started taking road trips to Florida with my wife's parents and then we got a timeshare in Las Vegas. We could exchange our time share to other places so we went to Arkansas and Idaho, we basically looked at a map, pointed a finger and that's where we went."
Out of all the different tourist locations and activities that are available to travelers, it's hard to pick just one favorite. Korkowski has two favorite places, the great outdoors and the big city. 
"Yellowstone is the coolest place I've ever been," Korkowski said. "If you haven't been there before, you have to go at least once in your life. I thought it was crazy though how people would get out of their cars and pose with the buffalos and bears for pictures. New York was pretty cool too. I want to go back. The last time we were there we stayed in a hotel on Times Square. We also went to get Cuban food in Little Italy. After we got home from the trip, we were watching a movie and the actor was sitting in the same booth we were in that restaurant."
Even though Korkowski could travel wherever he wanted, he still thinks there's no place like home and enjoys spending time in his home state. 
"My in-law's house is right on the lake. It's like thirty steps from the back door to the water," Korkowski said. "The water is so clear you can see all the way to the bottom, and in the winter, when it freezes over, you can walk out on the lake and still see 15 ft deep."
After the Korkowski's set their goal, it only took them six years to finish it, and now they have a new goal set for themselves. 
"About six years ago one of my friends accomplished 50 states in 50 years, so my wife, who's an elementary teacher, took one of her state maps and started marking off how many states we had already been to." Korkowski said. "She counted 32, so we decided to try and go to all of them before she turns 50. This past summer we went to our last state, Alaska. Our next goal is to hit as many international destinations as we can. We want to go to Ireland first."
Leave a Comment
Donate to The Voice of the Wildkats
Your donation will support the student journalists of Willis High School. Your contribution will allow us to purchase equipment and cover our annual website hosting costs.
About the Contributor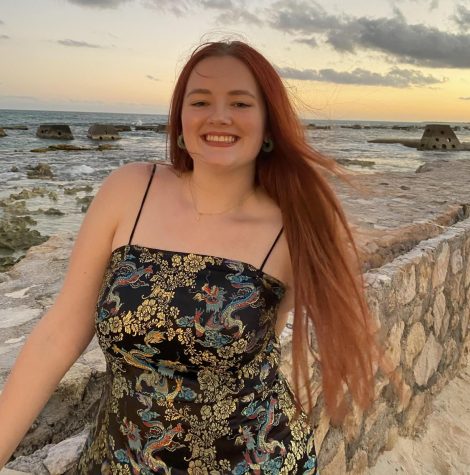 Summer Rains, VOW editor
Summer is a senior, co-editor of the newspaper and entertainment editor. She is also a member of the yearbook staff, four year journalism student and two...