Senior, student body president awarded Secondary Student of the month
Being the student body president means juggling different tasks given by students and staff, representing the high school, being present for every school event all the while handling senior year. Is not an easy feat. Then add college level courses, a commitment to the athletic training program and a part time job, the task seems almost impossible. It takes a strong love and commitment to all things Wildkat. 
Out of 2300 students, one student is chosen twice a year as the high school Secondary Student of the Month by the administration. At the board meeting on Sept. 8, student body president senior Cole Arnold was chosen for this award and honored for commitment to his office and his school. 
"As our Student Body President, he is responsible for helping me set the tone of our campus climate," principal Stephanie Hodgins said. "Because of his positive leadership and solutions-oriented mindset, he has impacted our student body in a way that has really impressed me."
The student chosen for the award is not told beforehand. The honor includes a plaque and a pat on the back. 
"The award was a complete surprise," Arnold said. "They told me to come to the board meeting because my mom was receiving an award."
One of the major changes that Arnold has already implemented into the school year is a designated student section at sporting events. Students now have a specific place with signs and themes when in the gym or at Yates Stadium.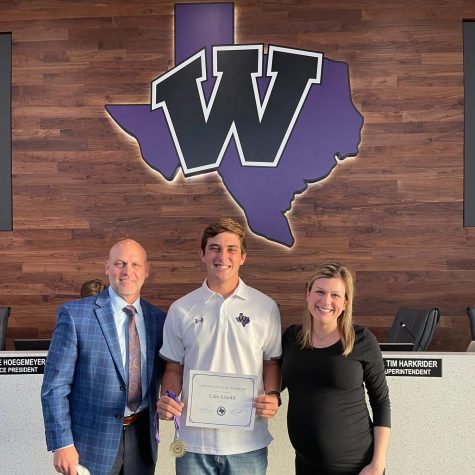 "I have seen an increase in our school spirit, specifically in the student sections of our volleyball and football games," Hodgins said. "Getting high school students to show up for one another and cheer them on is a huge accomplishment and a true testament to the kind of culture we have worked to build at WHS."
Being student body president is not easy, and an award should be granted to recognize all the hard work that goes into the job. Arnold feels that his biggest contribution is honoring Peacock at a home football game. 
"Our student body has shown its unity and the ability to overcome adversity through the hard times we have faced this year," Arnold said. "This year, I wanted to give everyone the most normal year possible and be their voice."