Wildkat Resource Center offers assistance, needs community to help
High school is stressful. Imagine trying to attend and pass eight classes with no supplies, clean clothes or a backpack.  Some students are in need of more than tutorials to be successful. They need a toothbrush, a new pair of shoes or just a hoodie to stay warm while waiting at the bus stop.
The Wildkat Resource Center was created with the purpose of providing these things and more to students of Willis ISD and their families.
The Kat's Closet, headed by the District Outreach Liaison Kindra Schiffner, is a program that gives free assistance to WISD employees, students and their families.
"Kat's Closet is one of the rooms here at Wildkat Resource Center," Kindra Schiffner said. "The program is called Wildkat Resource Center. Kat's Closet is just the room that has all of the clothing in it."
Alongside donations like clothes and hygiene products, members of the community can also contribute by volunteering time to work.
"We always need volunteers and would love to have junior high and high school students reach out to volunteer after school sometimes to earn service hours," Schiffner said. "The center always has things that need to be done so we love having volunteers. There is also an opportunity for our older students (middle and high school age) to volunteer at the center for community service hours throughout the year."
There are, however, some restrictions and requirements on what you can donate and how you can volunteer.
"The new WRC will not accept any household items or furniture," Schiffner said. We will help provide assistance for those items by request. If you are not a student at our schools and wish to volunteer, please visit Volunteers and Observations page and submit a background check. This background check is required to volunteer in any of Willis ISD buildings."
One upcoming Kat's Closet event you can donate to is the Christmas Wish-List Granter, a program that allows those who donate to contribute to in-need student's Christmas wish lists.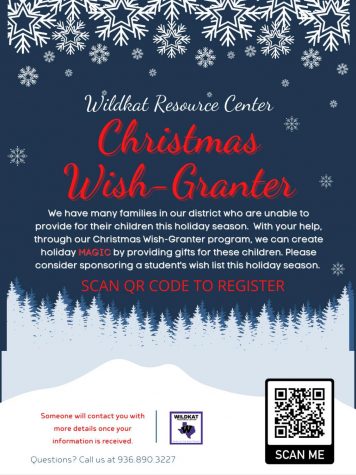 "For Christmas we currently have a flyer circulating that is titled 'Christmas Wish List-Granter', " Schiffner said. "It allows people to scan the QR code and register as a 'giver' this holiday season. Once the counselors find us students' wish lists who are in need, we assign those wish lists to our givers who registered to give."
In order to operate, however, Kat's Closet requires community support since it primarily relies on donations and sponsorships, whether that be through monetary donations or by donating items.
"There is an ongoing need flyer which will give you a list of items we need all of the time as well as the different rooms we have here at Wildkat Resource Center," Schiffner said. "Members of the community could make a monetary donation to us or do a drive where they collect the items we need and bring them to us. We run on donations and always are low on hygiene products and new undergarments."