LEO club brightens lives as holidays approach
The organization puts together gift bags for local homeless shelter
A person wakes up on the happiest holiday of the year. A day when, typically, people wake up in cheerful spirits to then join their family around a beautifully and thoughtfully decorated Christmas tree featuring the classic holiday colors of red, green and white. A day when people would take turns opening presents, and as each face lit up with delight at the brilliance of holding something new in their hands, the holiday cheer would grow. But this person had none of this. Loneliness and emptiness were waiting for him when he woke up. His company was a tree that reached no higher than his knees decorated with a single, dim star on top. His only memory of holiday cheer being the Merry Christmas he muttered to himself.
A hug that wraps around the world. A smile that lights up the darkest moments. Members of Leo Club pour their joyful spirit into the bleak world of those in need.  
Leo Club held a meeting on November 4, 2021 where students gathered to make gift bags for the food shelter.
"I really hope to improve my community," senior Misael De Los Reyes said. "I think that, especially now during times of COVID, during times in which a lot of people are stressed out or worrying about things, we really have forgotten about homeless people, so I really hope to be able to help people who are often overlooked by our community and continue to help them out at times at which they really need it."
As an inspiration to others, students who are a part of Leo Club strive to serve their community with a spirit of joy and selflessness during every opportunity they have. 
"We're making bags for the food shelter," Leo Club president junior Hatzire Estrada said. "We feel very grateful when we make the bags because we have the opportunity to help other people, and that's what Leo Club is all about, so primarily that's what we focus on. We really are just grateful for all of the opportunities that we get to give back to the community."
There are a lot of people who are in situations where they don't have enough essential things they need. Leo Club is working towards helping others so that those situations can look brighter.  
"There are a lot of women and children in shelters along with people, especially when it's cold outside like it is right now, who are homeless, so we're really hoping that we can let people know that we care and also that they are being provided with their basic needs," Leo Club sponsor Shelley Smart said.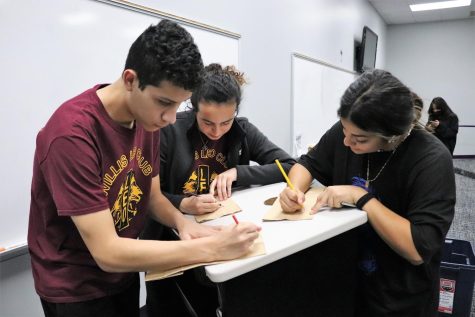 Teaching members important values and things about life is another thing that Leo Club members aim for.
"Leo Club feeds my soul," Smart said. "It makes me happy to take opportunities with kids to show them the bigger picture, and how to help their own community so that when they leave this building they can transfer that into something on a more global scale. I definitely am trying to not only make my community better, but I'm trying to make these kids see things that are bigger than themselves wherever it is that they go from here."
Senior Ashley Miranda is a long-time member of the club, and she hopes to bring some love into the lives of those she helps through her dedication.
"This has been my fourth year doing it, and basically what we do is help out our community and try to give the best we can," Miranda said. "We just enjoy giving to our community, and we try to make it better in any way or form possible. We try to make people feel like they have somebody. We usually help people that are alone, so we decide to make them feel appreciated and loved."
Helping others so that they have everything they need, fills their bellies and their hearts, and it also gives them more than people might expect. 
"Love motivates me to help others," Smart said. "I just feel everybody deserves some grace and some dignity, and I think that when you offer to help other people without having them ask they are allowed to receive what they need and have their dignity stay intact."
For the members in Leo Club, the people they help are their biggest motivator. Being able to change a person's mood or make a thoughtful impact on a person's day is what Leo Club members hope to accomplish through their actions.
"I hope people feel appreciated and recognized, and that it's not always going to be bad, and that no matter what, there is going to be some type of light or some type of hope for everything," Leo Club secretary senior Lindsey Pipes said. "I just hope that this really does spread and people can feel the love of the holidays that maybe they're not feeling from anyone else. I just want them to know that it isn't just all loneliness and that they are always going to have a way to be helped."