OPINION: Thanksgiving traditions important enough to celebrate
Moving from costumes and trick-or-treating to the next holiday on the list. Jingles all over the radio, trees being set up and decorated, and houses getting covered in bright beaming lights to celebrate Christmas. But wait a second, isn't there something everyone's forgetting? The time that's full of joy, houses filled with laughter and plates filled with food full of blessings and giving thanks to God. Thanksgiving is the holiday that is overlooked and forgotten by society to celebrate in stores before Christmas time, on the radio, in stores and throughout homes.
Neglecting all the traditions and connections this holiday brings through love, food, blessings, and thanks is something the community needs to change. 
Thanksgiving is most times neglected by people because no one connects their own traditions and celebrations with this holiday like most do with Christmas. Thanksgiving is meant to be that time for thanks and blessings passed around throughout communities to friends, family  and even strangers. Allowing kindness and giving people what they need to feel noticed and appreciated is exactly what Thanksgiving brings to people. However, by the overlooked laughter and memories from the past, people forget to cherish the valuable time spent together on this holiday.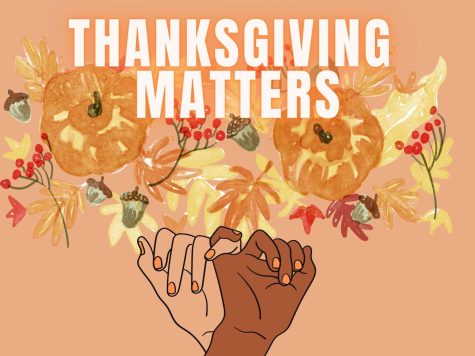 This Thanksgiving is going to be one of the most expensive anyone has seen due to the lack of produce, vegetables and shipments of packages full of daily necessities that are blocked from grocery stores and the community. The turkey, ham, sweet potatoes, green bean casserole, black eyed peas, mashed potatoes and more is going to be in limited supply and may leave families looking for different alternatives to enjoy this holiday. 
On November 25, 2021 families all over the world will gather around to celebrate their blessings and give thanks for what they have around them; however, others will neglect this holiday and treat it like any other day due to their absence of reason. The reasons to celebrate Thanksgiving come in all different shapes and sizes. From giving thanks to God for what he has given, thanking the people who have passed on from this life for everything they have taught and thanking the ones who are still here and supporting one another there should be blessing and spreading joy to others in schools, restaurants, stores and even gas stations. Small acts of kindness, laughter spreading throughout the air and the thanks being sent to others are what Thanksgiving is all about. These are the traditions and reasons to celebrate Thanksgiving. Quit neglecting the importance of this holiday has on the minds and hearts of others.