Junior appears on local news in hopes of life-saving surgery
When students think of junior Blake Connerly, they think of his kind heart and infectious laugh. They think of his love for collecting hotel room keys, and how he can talk about anything and everything with anyone at any time. But behind his smiling face and contagious laugh, Blake is battling life-threatening weight gain that is impeding on his ability to be a teenager. 
Connerly has been totally blind since birth, only able to make out shadows of shapes when holding objects close to his eyes. But this is not his only challenge. He was also born with severe brain developmental issues, hormonal deficiencies and a rare and extreme form of diabetes. His health issues have led to extreme weight gain, and it has nothing to do with diet or exercise. Doctors say that this extreme weight gain can ultimately lead to complete immobility. Doctors recommend a gastric bypass, but Connerly's insurance will not cover the cost of the surgery because they see the surgery as cosmetic and not as a surgery that will ultimately save his life. 
"
I'm hoping that we could get Blake the surgery he needs so he can lose this devastating weight. So he can live the life that my sweet boy deserves."
— Jennifer Edwards
Connerly's family reached out to Bill Spencer at "Spencer Solves It" to find a team of doctors that will do the surgery pro bono, and Connerly and his mother were featured on Click2Houston on Nov. 30 to rally their cause. 
"I'm hoping that we could get Blake the surgery he needs so he can lose this devastating weight," Connerly's mom Jennifer Edwards said in an interview with Spencer Solves It. "So he can live the life that my sweet boy deserves."
The news video featured aspects of Connerly's life that make up his every day, but it also showed how much his weight gain is affecting his quality of life. 
"It felt really exciting to be on TV," Connerly said. "I know it was important because I need this surgery really bad."
Connerly has redefined the word normal and has learned to live with the many challenges he has faced. Last year, he participated in the musical "Cabaret" as an ensemble member, and the cast and directors saw his presence as a light in the show. 
"He was so fun to work with and always tried his best when we were on set," 2021 graduate Cameron Smiley said. "Honestly, he's a kind hearted and sweet guy and he deserves the world."
Despite the many obstacles that Connerly has faced, he continues to be the same Connerly that the students and staff have grown to love. 
"Something I'll always remember is how he always remembered me and would always make it a point to say hi and have a short or long conversation," Smiley said. "He'll always be my buddy."
Connerly has touched the hearts of many students he has grown up with. Everyone knows who he is, and everyone is there to support him.
"It is sad to see someone who I grew up with go through so much," senior Piper Neumann said. "I know he cannot see me, but I always go out of my way to make sure he knows I am here."
The surgery is necessary for Connerly to continue to be the go-lucky, smiley teen he is. 
"It means a lot to me that the community is supporting me," Connerly said. "I need this surgery in order to be happy and healthy."
View Comments (2)
Donate to The Voice of the Wildkats
Your donation will support the student journalists of Willis High School. Your contribution will allow us to purchase equipment and cover our annual website hosting costs.
About the Contributor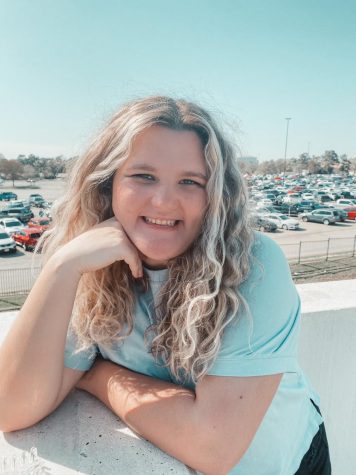 Katherine Lee, VOW editor
Katherine is a senior and co editor of the school newspaper. For the past 2 years she has made All-State Journalism Staff and made it to regionals last...