Transgender athletes should be allowed to partake in gendered sports
Lia Thomas made history during spring break when she became the first transgender woman to win a NCAA championship. This big win caused certain groups to become upset in the name of fairness. Individuals assume that since Thomas was once a man that she must have an advantage. 
Transgender athletes should be allowed to compete in sports assigned to the gender they identify as.
Being transgender should not hold someone back from scratching their competitive itch. The world is different now than what it used to be, and people are more accepting of the LGBT. However, many people believe that athletes should only be allowed to play sports with those of the same sex. If this became a rule transgendered people would have nowhere to go. 
Professional sports eventually flow down to college and through high school. When people were outraged over Thomas's victory, trans sports became a discussion topic for many teens. Transgender youth had someone in athletics to look up to; however, their role-model was quickly shot down and told she won unfairly. Teens do not have a lot of LGBT influences. Naysayers could possibly have taken away their chance at finding themselves.
"
Teens do not have a lot of LGBT influences. Naysayers could possibly have taken away their chance at finding themselves."
— Stone Chapman
This is not an issue of fairness, it's an issue of human rights. Thomas may have some competitive advantages due to going through puberty as a man, but her advantages aren't any different than the other women with longer wingspan or faster metabolism. Being born with genetic advantages is a part of life, and people accepted that until that advantage allowed for a transgender person to win. 
Plenty of people argue that Thomas only transitioned to female as an attempt to dominate on the team. This only could make sense to those ignorant of how the NCAA guidelines work with transgender athletes. The rulebook states that for a trans member to compete, they must undergo hormone therapy and have a certain level of testosterone. Thomas did not break any rules by competing.
Feelings of confusion are warranted in this situation, however transphobic comments are not. Those trying to solve the problems brought up by Thomas's victory are on a wild goose chase. There is no solution to the issue presented because there is nothing wrong. Thomas and other transgender athletes have their right to compete.
Leave a Comment
Donate to The Voice of the Wildkats
Your donation will support the student journalists of Willis High School. Your contribution will allow us to purchase equipment and cover our annual website hosting costs.
About the Contributor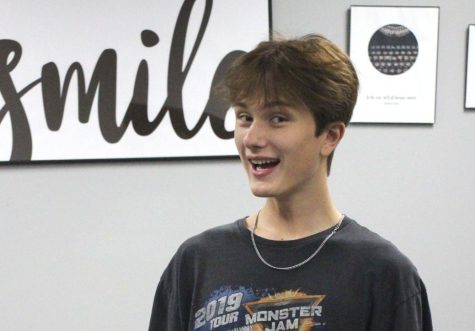 Stone Chapman, VOW Staff Writer
Stone Chapman has been on yearbook and newspaper staff for one year. After ending the 2021-2022 school year with a best of SNO award and story with 47,000...