Wildkat brings pride to Willis with Ivy League acceptances
A student frantically types on his keyboard as the clock ticks much too fast. The applications are due today, and all of this work might be all for not. They may have nothing to show for it at the end of the day, but maybe, just maybe, when they receive that letter of acceptance or that crucial scholarship, they may realize that all of their toil and efforts were worth it.
Senior Misael De Los Reyes has been accepted to five of the top colleges in the nation. After a life of experiences, work and dedication, he will now decide which university he will attend after graduation. 
"I have been accepted to Harvard University, Yale, Colombia, Stanford, University of Chicago and also The University of Texas at Austin," De Los Reyes said. "My hope is that I'll be able to meet people from all over the world that I'll be able to have connections with for the rest of my life."
This chain of acceptances began with a likely letter from the University of Chicago whose acceptance rate this year is a mere 5%. With little hope of getting in, De Los Reyes opened up his admissions portal that would change his opportunities for the future. 
"I was sitting down at my desk in my room. I opened the University of Chicago just out of boredom, and I found the letter there," De Los Reyes said. "I applied not thinking I would be able to get in. I initially felt shock and then disbelief and then I just felt grateful for all of those who have supported me throughout this entire process."
College is not seen as a cheap or affordable endeavor. It is even more difficult for top and Ivy  League schools, but with financial aid programs, it is possible to fund higher-level education. 
"Ivy Leagues, as well as Stanford and the University of Chicago, have very generous financial aid. They offer need-based scholarships," De Los Reyes said. "Through those need-based scholarships, I was actually able to obtain a full ride to every single one of these schools."
De Los Reyes has set his sights high and has a strong sense of what he wants his college experience to be. He has found the institutions that will help him achieve his goals and gain different experiences than typical state schools and community colleges offer. 
"I wanted to be able to go to a school that is surprisingly affordable and that would also give me opportunities that can't be found anywhere else in the world," De Los Reyes said. "I really wanted to be immersed in an environment that was vibrant. One of the big advantages of going to one of these top institutions is the extremely strong network. There are multiple famous and successful alumni like Barack Obama and Mark Zuckerburg." 
Getting into just one of these schools is beyond challenging. After a life of hard work and dedication, De Los Reyes was able to make this happen for himself not only in academics but in extracurriculars as well. 
"Once I met that academic standard, I knew I needed to do things beyond the classroom," De Los Reyes said. "I joined a ton of clubs. I'm president of four clubs, vice president of one and secretary of another. I also helped start one of those clubs, and I helped start a reading program for bilingual students."
"
I'm president of four clubs, vice president of one and secretary of another. I also helped start one of those clubs, and I helped start a reading program for bilingual students"
— Misael De Los Reyes
De Los Reyes is not only an active member of many clubs, but he also helped start the A. R. Turner reading buddies program for bilingual students. The Spanish National Honor Society frequently travels to the elementary school to read to the students. 
"What really inspired me to help start this program was my personal experiences growing up as a bilingual student," De Los Reyes said. I was under the bilingual program up until third grade. I was once in their shoes, and now I'm going to be able to give back to them."
An impressive activities sheet and transcript is still not enough for some of these institutions. Admissions essays can make or break a student's chances of obtaining the education of their dreams. 
"In spite of all of that, I think what really got me in was my writing," De Los Reyes said. "I wrote about my experiences growing up in a low-income household. My mom is a housekeeper from some extremely wealthy people, and I wrote about how growing up disadvantaged and accompanying her to these places affected me and affected my view on the world."
With many generous offers on the table, De Los Reyes is leaning to one institution in particular that could help him achieve his ultimate career goals. 
"I think right now, I'm leaning more towards Harvard," De Los Reyes said. "That's only because they have the best programs in the country for what I want to do. I want to go into biochemistry or biotechnology research on a pre-med track. Harvard is really well known for that, so I think I would really benefit from attending there."
This career goal is not a recent development. It began when De Los Reyes was very young and endured experiences that have inspired his plans for the future. 
"My long-term career goal is to be a plastic surgeon," De Los Reyes said. "At a very young age, I had medical problems. I suffered from an accident that actually required me to have plastic surgery. I'm really hoping to return to a hospital setting in a much more positive light as a reconstructive plastic surgeon and help others who were just like me."
Though he has worked hard to accomplish his goals, it has not been an easy journey. There were many obstacles such as academic rigor, extracurricular involvement and admissions essays, but one that is less discussed is the need for self-confidence and determination. 
"I actually put off my applications until the very last minute," De Los Reyes said. "I started all of my applications the day they were due, and that's only because I just didn't believe in myself. I didn't see a point in applying to these schools because I thought I would get rejected. Don't doubt yourself. Don't ever underestimate yourself. You are capable of more than you believe." 
Leave a Comment
Donate to The Voice of the Wildkats
Your donation will support the student journalists of Willis High School. Your contribution will allow us to purchase equipment and cover our annual website hosting costs.
About the Contributor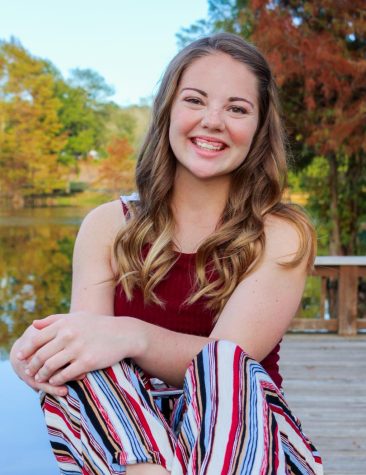 Heather Jackson, VOW photography manager
Heather is a senior on the school's varsity tennis team. Last Spring, she became a State Champion in Journalism UIL for News Writing in 6A. She made...