Coach battles storm with community aid
Willis comes together to support to family impacted by colon cancer
The Devil whispered in my ear, "You're not strong enough to withstand the storm."
Today I whispered in the Devil's ear, "I am the Storm." 
For Coach Michael Storms, the battle is just beginning, as he faces the largest storm of his life: the battle against colon cancer. 
Like before when faced with adversity, the Wildkat community is coming together to take care of their own and plan to rally behind Storms to beat this silent disease. Every home volleyball game in September will be dedicated to Storms. Several events have been planned to assist his family in their time of crisis.
"We are hoping to raise money to donate to the Storms's family while they undergo months of medical treatment," Stephanie Paske, mother of senior volleyball player Savannah Paske, said.
Storms is an instructor for Hope Academy, a program that helps at-risk students cross the stage through remediation, and is the husband of Megan Storms, head volleyball coach. This summer he was diagnosed with stage-four colon cancer and is currently receiving treatment. 
"It has now been five weeks since surgery to remove a cancerous tumor that was found in my colon," Michael Storms said. "My recovery from surgery has been awesome, and I feel like I am at full strength now."
After his first surgery, Storms was hit with more bad news.
"As the results came back from surgery, the report was not a good one," Storms said. "The cancer had spread a lot more than expected, and I will undergo stage four cancer treatments for the next six months."
According to cancer.com, around 151,000 adults in the United States will be diagnosed with colorectal cancer. This type of cancer is the third most diagnosed cancer. In this tough time, Storms is leaning on his faith and his loved ones.
"I know it will be a tough road for me and my family, but I am excited to see what God has for me," he said. "I truly am."
Storms' enthusiasm is contagious and awe inspiring. The people around him have not let this go unnoticed and have put many things in place to show their support. 
"We also decided to dedicate every home game in the month of September to the Storms' family," Paske said. "We will be selling wristbands at all four games until we run out, and selling street tacos on September 30. Come show support by wearing their #IAmTheSTORM shirts or blue in honor of colon cancer awareness."
This "Blue September," has already started for many members of the Willis family. Many athletes around campus have already started showing their support for the Storms family.
"Over the summer when we found out Coach Storms' husband, Michael Storms had cancer, we were shocked," senior Taylor Hayes said. "Coach Storms handled it surprisingly well, staying committed and strong for the team. Even during her husband's surgery, she was with us at a tournament."
The team wears blue to support the Storms family and others who are fighting this type of cancer.
"To show our support for our beloved coach and her family, every game, every player has a blue ribbon on their shoes, to bring awareness and support not only for him but for other people who are fighting," Hayes said. "We changed our team chant to 'Storms on 3' because we play hard for him. This is not a pity rally, but rather a spark of encouragement for a difficult fight ahead. We love you, Storms."
Leave a Comment
Donate to The Voice of the Wildkats
Your donation will support the student journalists of Willis High School. Your contribution will allow us to purchase equipment and cover our annual website hosting costs.
About the Writer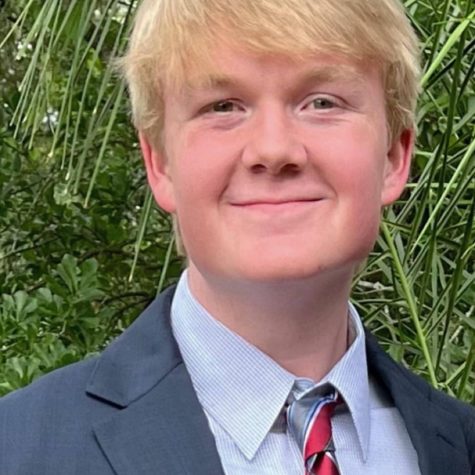 Reid Henderson, VOW Feature Editor
Reid is a senior in his first year of the journalism staff. Last year, Reid participated in multiple UIL journalism events as well as Extemporaneous speaking...